A massive new development on Chicago's North Side is finally moving forward to the next building stages as new permits for construction have been approved at 920 N Wells and 868 N Wells. JDL Development's $1.2 billion North Union Development project is focused on revitalizing the area around the Moody Bible Institute campus, focusing on providing affordable luxury housing and greenspaces to the neighborhood.
JDL Development has partnered up with Intercontinental Real Estate and Square Mile Capital to help tackle the development of this enormous project. They have also brought Hartshorne Plunkard Architecture for Master Planning & Architecture work, with Power Construction acting as the general contractor for the Union North development. Together they plan to complete construction across the entire campus by mid-2026.
"The city needs a shot in the arm, at every level, and development is always a great sign that the city is coming back," said JDL Development's CEO, Jim Letchinger.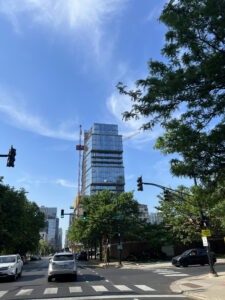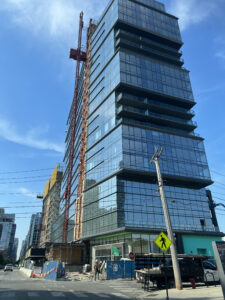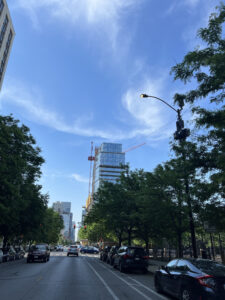 920 N Wells and 868 N Wells will open up for leasing in mid to late 2023. These two highrises alone will provide the neighborhood with a total of 661 new residential units, 234 underground parking spaces, and 22,000 square feet of commercial space. North Union hopes to fill these commercial spaces with artisan food & specialty shops such as Nomad Chicago, 3 Little Pigs, and Headquarters Beercade that already exist around the campus. If you're interested in finding more information on North Union commercial spaces coming soon you can inquire with JDL Development here.
Located conveniently between the Gold Coast, River North, and Old Town, residents will have easy access to the CTA's Brown, Purple, and Red train lines. Along with North Union's private underground parking structures and the proximity to the I-90 Expressway, the development is poised to be a popular location for all forms of Chicago commuters.
When construction is completed, the North Union development will have 7 new residential highrises bringing in over 2,600 residential units. The entire North Union campus will have 30,000 square feet of commercial spaces and a whopping 100,000 square feet of parks and green spaces. You can view high-quality mockups of North Union development here that show how expansive and unified the North Union development is.
Residents of 920 N Wells can officially move in October 2023 and applications are open now! You can see all available units, floor plans, and book tours at 920NorthWells.com. Future residents of 868 N Wells will have to wait until late 2023 when construction is completed to begin moving in but can expect exciting news on that front sometime this summer. Stay tuned for more North Union development news and updates as the project expands.
Looking for a new rental in Chicago? Pearson Realty Group agents can find the perfect space for you and your family in any part of the city! Contact our leasing department today to get started!