First established in 2009 with only a handful of dedicated brokers, Pearson Realty Group has expanded to a full-service brokerage that has climbed the ranks to one of the most successful Chicagoland real estate brokerages. We are home to a team of reliable and accomplished brokers, distinguished property managers, and incredible support staff. Our ever-growing brokerage is constantly challenging the market through the use of innovative technology, strategic marketing tactics, and exceptional customer service.
---
Fast Stats
---

---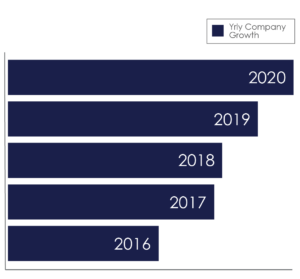 From 2010 – 2020 Pearson Realty Group has completed over 2600 transactions, resulting in a total volume of $500 Million. We have steadily increased our market share every year since we have been in business, leading to high exposure through online marketing, advertising, signage, direct mail, and email campaigns.
What does this mean for your home? More exposure leads to higher page views, an increase in showing requests and a shorter market time for your home.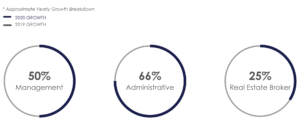 The above stats show approximate yearly company growth as Pearson Realty Group and our sister company PRG Management. Additionally, over the past 3 years Pearson saw a 59% increase in brokers, 72% increase in management business, and has grown 85% in administrative support. Our growing team has propelled us forward in the industry, allowing us to close more deals efficiently and successfully.
---
Our History
---
Founder's of Pearson Realty Group, Kirby, Austin, and Parker Pearson, began their careers at the world's leading and most diverse derivatives marketplace, the Chicago Board of Trade CME building. During this time, they created one of the largest treasury commodity brokerage firms in the Chicagoland area. After building a thriving firm, they decided to expand the business and went into real estate.
So, in 2009, Kirby Pearson joined with his two sons, Parker and Austin, to form Pearson Realty Group and moved from the Chicago Board of Trade CME to its current location in Noble Square. Since their start, the Pearsons have offered a variety of services including investment property management services, homeowner association management services, and Noble Title Insurance Agency. Additionally, they sit on the board of a 501c3 non-for-profit Benevolent Housing Association and have completed various developments such as multi-family and commercial property investments. Now, Pearson Realty Group is an award-winning full-service real estate brokerage, serving Cook County and various surrounding suburbs.