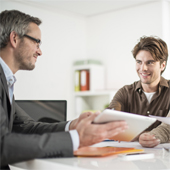 At Pearson Realty Group, we offer a range of premium leasing services for landlords in Chicago. Our extensive network of property owners and our proprietary database enable us to provide a customized solution that suits your unique rental and leasing needs.
We are committed to providing exceptional leasing services to help you find high-quality tenants for your property, without any hassle or stress. Our rental marketing services provide a comprehensive approach, unique to each property including:
Marketing
Tenant Screening
Lease Preparation
Vendor Management
Whether you are looking to rent out your property for the first time or have an extensive portfolio of properties, we offer a hassle-free and streamlined experience that puts your needs first. Our team of experienced agents has a deep understanding of the Chicago real estate market and possesses the skills and knowledge to guide you through every step of the leasing process.
At Pearson Realty Group, we pride ourselves on providing unparalleled customer service and ensuring that your property is rented out to the best tenants possible. To inquire about Rental Marketing Services please contact us at info@pearsonrealtygroup.com for more details.
Are You A Tenant? Search All Chicago Rentals Here