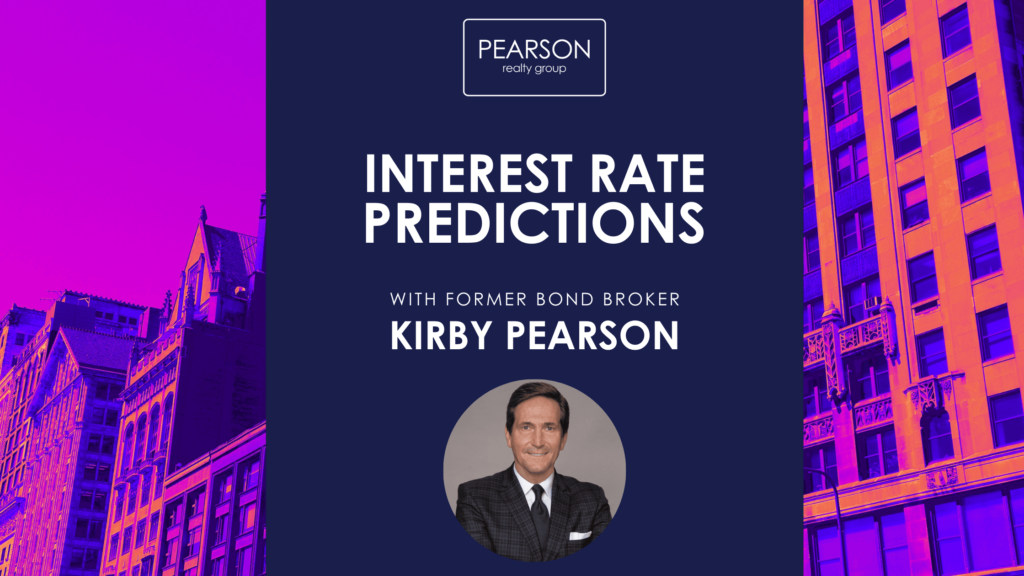 The predictability of interest rates is one of the most common questions asked about in real estate today. Fluctuation in interest rates is directly related to home buying power and therefore sales prices. We sat down with Pearson Realty Group's Kirby Pearson, former interest rate bond broker on the Board of Trade, who shared his predictions and insights of the current interest rates.
What are your thoughts on today's current interest rate?
I think the current interest rates are still very low due to the perception of the markets. Even though the treasury cash and futures markets have priced in a small interest rate rise, the federal reserve has not indicated that it is ready to raise rates.
What is the best way to predict interest rates?
Borrowers and real estate agents need to pay attention to the 10-year yield because it's directly related to mortgage rates. A few months ago the 10-year yield was between 1% and 1.2%. It has since increased by about half a point.
Look at the 10-year yield chart to understand where mortgage rates are going. As inflation rises or a housing bubble expands, the market becomes riskier for lenders. Mortgage spreads widen as a result.
How do you think interest rates will change in the next 3 months? What are your predictions for the future of the interest rates?
There are inflation worries out there because prices of goods are rising due to the current supply issues. The Federal Reserve is not concerned about inflation because of the supply chain issues that are driving prices higher than average. As we correct those issues and the Federal Reserve sees inflation has been embedded into our system, then the 10-year yield will quickly rise to 2% or higher and increase interest rates. But if inflation is not embedded into our system, and it was a supply chain issue, then the 10-year yield should stay under 2%, keeping interest rates low.
How can buyers take full advantage of today's current interest rates? What does this mean for sellers?
Buyers may now be able to afford a higher-priced home, whereas, in a high rate interest market they may be unable to afford that same home. When interest rates are low, buyers have the opportunity to snag a lower monthly payment. That's what should be most important to them versus catching the bottom of the market because they're so concerned about the price of the home. With the housing market on the rebound, the right home at the right price is still what every buyer wants. Right now is still an ideal time for buyers to purchase.
For sellers, this means that they may be able to get more value for their homes. With inventory levels and mortgage rates being significantly low, sellers are seeing more bidding wars leading to price increases.
Find out how to get your offer accepted in today's market!
How do you think the interest rate will impact the real estate market?
We're not likely to have another housing crisis as we did in 2008 because the federal reserve is overseeing everything and they're ensuring the banks are compliant.
Do you foresee any problems in the near future with the housing market?
I think interest rates will rise and real estate prices will drop. Every market is different. I always say real estate is local. In big cities where there are jobs, they're always going to stay fairly strong. But I think the housing market in Chicago is going to stay very strong for quite a while.
If you are looking for a home and have more questions about the direction of the interest rate market or just want to understand what all this means for you as a buyer or seller please contact us today! We have a team of top real estate agents on standby to help you with all of your real estate needs.