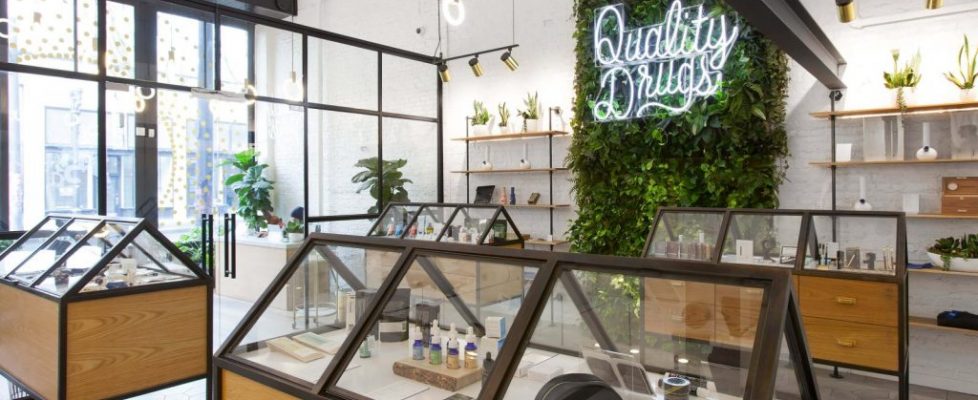 The demand for adult use marijuana in Illinois continues to grow since its legalization in January 2020. Currently, the majority of dispensaries taking on the city's recreational users are those previously licensed for medical use. Luckily, the pressure won't be on them for too much longer because on or by May 1st, 2020, the state will have issued up to 75 new conditional adult use dispensary licenses.
The new licenses mean that the expanding marijuana industry will require more commercial spaces for production and sales. However, given the variety of rules and regulations that are put in place, finding an adult use dispensary location may be an uphill climb. So if you're someone looking to join the growing industry and open an adult use cannabis dispensary, here are some key takeaways to help you navigate your way to the perfect operation location.
What are the license categories?
Dispensing Organization
Craft Growers
Infusers
Transporters
Licensing for cannabis dispensary locations and operations is done through the Illinois Dept of Financial and Professional Regulation.
What does it mean to be an existing cannabis dispensary in IL?
The existing licensed medical marijuana dispensaries were given the opportunity to apply for an Early Approval Adult-Use Dispensing Organization License. The Early Approval license is what allows them to currently sell recreational-use marijuana.
Existing license holders are also able to apply for a second adult-use retail license which allows them to open an additional dispensary location. The state requires any applicants to obtain zoning approval prior to submitting the second adult use application. More details on the second site application can be found on the application itself and the IDFPR's application FAQ
Do I need to have a location for my dispensary to get a license?
No. IDFPR will initially award new applicants a "Conditional Adult Use Dispensing Organization Licenses." If awarded, the applicant will be given 180 days to find a location for a dispensary. After a location has been found and obtained local zoning approval, passed an IDFPR inspection, and paid the registration fee, then IDFPR will award the applicant an Adult Use Dispensing Organization License.
If you are unable to secure a location in the first 180 days, the Department may extend this period by an additional 180 days. For this to happen, the Conditional License holder needs to prove that they have made concrete attempts to secure a location and faced hardship. If the extension is denied or the license holder is unable to find a location or become operational within 360 days, the Department will rescind the Conditional License. Additional information can be found on the IDFPR cannabis program page.
Can I lease a space contingent on getting a license?
Not exactly. While some owners may be open to it, a majority of commercial space owners are not. Most owners don't like the idea of taking their property off the market for several months while a prospective tenant waits for their license. The best case of action will be waiting until a conditional license is awarded and then looking for space.
Will I be awarded extra points on my license application if I have a location for the dispensary?
Nope, no extra points will be given if a dispensary location is already found.
Where can I open a new dispensary?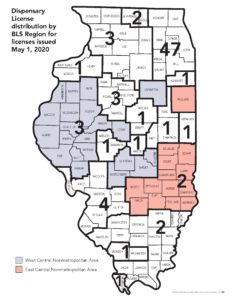 To ensure there's equal access to adult-use marijuana throughout the state, only a certain number of licenses will be awarded in each of the 17 Bureau of Labor Statistics Regions (BLS) in Illinois. The number is based on each region's percentage of the state population which is shown on the map to the right. For a list of counties in each BLS Region, visit BLS.gov
There are also no statewide zoning rules, so every municipality is allowed to pass their own rules and regulations. This includes zoning restrictions, just as long as they do not conflict with the State Statute. A map of the towns and cities that have agreed/disagreed to allow cannabis sales can be found here. A majority of towns that have voted to allow cannabis sales have listed zoning information on their specific websites. Chicago's can be found on the Cannabis Zoning Ordinance page.
Where can I open a Second Site Dispensary?
If a medical dispensary operates in one of the following Dispensing Organization Districts: Cook, DeKalb, DuPage, Grundy, Kendall, Kane, Lake, McHenry, and Will- they may locate their second site anywhere within those counties.
Medical dispensaries in Illinois State Police District 1 may locate their second site in the following counties: Bureau, Carroll, Jo Daviess, La Salle, Lee, Ogle, Putnam, Stephenson, and Whiteside.
Where can I open a Processing Operation?
As previously mentioned, each town is different. However, one of our real estate brokers, Dave McLennan, has been working with city officials in an attempt to establish the approved zones. During his research, Dave spoke with several offices including The Business Affairs and Consumer Protection Bureau, the Department of Planning and Development, the Department of Financial Regulation, and the chief of staff for Alderman Scott Waguespack. Through this, he received some contradicting answers, giving the impression that most of the process was still somewhat in a state of flux.
In terms of zoning, he found the following:
B1 or B2 – not allowed in any zone
DR or R zone – not allowed in any zone
C2, C3, DC, or DX- is allowed by Special Use only.

The applicant must go before the Zoning Board of Appeals to acquire a Special Use Permit.

M1, M2, or M3 – is allowed in the district

**Doesn't need to go before the Zoning Board of Appeals
**The chief of staff for Alderman Scott Waguespackwas less than certain of this, as this is stated in the Final version (passed 12-18-19) of the Ordinance passed by City of Chicago, but is not on the Chicago City Clerk's website. The city clerk's website only addresses where dispensaries can be located (C2,C3), but does not address Processors.
What kind of dispensary location parameters are there?
Dispensary locations must not be within 1,500 feet of an existing dispensing location

This applies to secondary site owners too

It cannot be within 500 feet of a school
The building must be suitable for public access
Dispensary locations must have a layout that promotes safe cannabis dispensing

Sufficient in size, power allocation, lighting, parking, handicapped accessible parking spaces, accessible entry and exits as required by the Americans with Disabilities Act, product handling, and storage.
Are there specific interior requirements?
Minimum building layout requirements are listed on the Conditional Adult Use Dispensing Organization License Application which can be found here: IDFPR Conditional License.
Some quick points from the first QA Session:
The facility must contain room(s) for a Restricted/Limited Access Area
Cannabis must always be stored and sold from a restricted access area.
The barrier between the public access area and limited access area should be a solid barrier that prevents an individual from easily accessing the limited access area.
All counters separating limited access areas from restricted access areas should be at least 48" in height, except that spans of counters up to 36" in width may be reduced to 36" in height. The 36" high counter span refers to the width, not the depth of the counter.
Must have the ability to safely accept delivery of and store cannabis in a restricted access area, but there is no requirement that delivery vehicles be able to enter the dispensary premises.
Additional Information
Additional information regarding adult use cannabis dispensary locations can be found on the following pages below