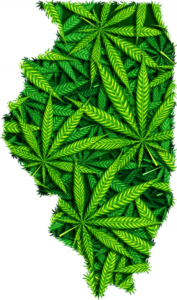 A Budding Relationship
In approximately 3 months, recreational marijuana use will be legal in Illinois. Beginning on Jan. 1, 2020 adults 21 years and older will have the ability to purchase regulated marijuana from licensed dispensaries around the state. While marijuana is already legal for medical usage, the inclusion of recreational use is expected to broaden and impact the state's economy and the real estate industry.
Here's a look at what the experts are saying about the budding relationship between recreational marijuana and Illinois Real Estate and how the new legalization law affects Commerical Real Estate, Residential Leasing, and Property Management – topics are roughly in order from most detailed to least.
---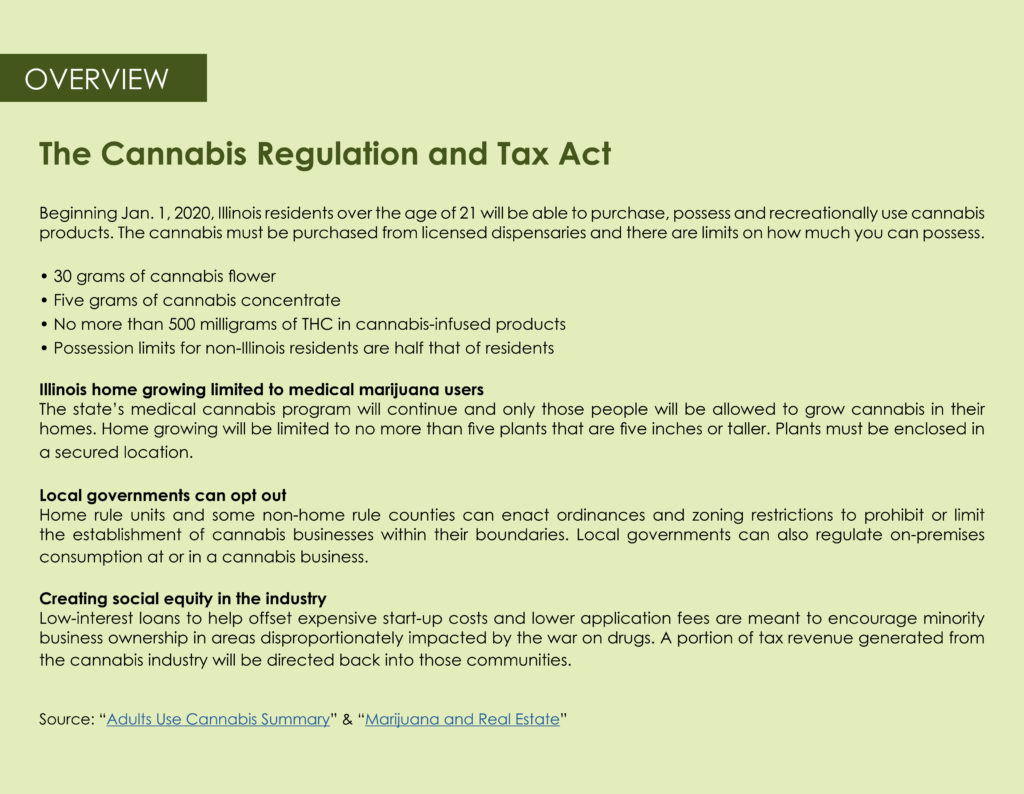 When marijuana was legalized in 2014, 55 dispensaries were licensed in the state of Illinois and there are roughly 20 cultivation facilities that will be the first ones licensed to grow. Under the newly passed law, craft growers may apply for a license to cultivate up to 5,000 sq ft. The state will also grant as many as 91 licenses to Chicago sellers, which will be divided among seven zones in the city. To begin, no zone will be allowed to have more than 7 locations and eventually that number will climb to 14. In addition, new licensees for dispensaries, infusers, and transporters will be rolled out over the next couple of years.
Marijuana & Commercial Real Estate
Quick Summary:
Commercial real estate is at the top of the list for areas most likely to be affected by legalized marijuana. Over the next few years, additional licenses will be given to cultivation facilities in Illinois, which will heighten interest for industrial and retail sites. However, since marijuana is still illegal at a federal level, the marijuana industry is primarily a cash business. That can make it harder for marijuana clients to find retail space because some landlords and property owners are hesitant to deal with cash only clients. Secondly, Realtors will have to navigate state and local restrictions regarding dispensary locations. As a result of these two hurdles, companies are more likely to purchase their own properties, and set up cultivation centers in more rural parts of the state.
The Details: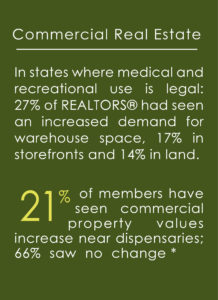 As with any expanding industry, the demand for more operational space increases. The same can be said for the marijuana industry, which is predicted to be on high alert for industrial and retail sites that can be used for production and sales.
When it comes to industrial real estate inspiration, we turn to Colorado's market. In a recent interview with Illinois REALTOR®, general counsel for the Colorado Association of Realtors, Scott Peterson, said the new industry helped boost the state's real estate market during the recession. "It saved a large segment, particularly metro Denver's industrial market," he said. "Those were the only people doing deals."
In addition, Colorado has collected more than $1 billion in tax revenue since recreational marijuana was legalized in 2014, and has earmarked a portion of the funds for affordable housing. Essentially, if Illinois is anything like Colorado, the expansion of marijuana could have a big impact on industrial real estate. However, with every new law comes hurdles to navigate.
Hurdle #1: While marijuana use is legal in Illinois, it is still illegal on the federal level. This causes commercial transactions to be a little trickier than average. Basically, since clients in the marijuana industry can't go through traditional, federally-backed banks for loans to purchase or lease a property, they're primarily a cash-based business. So the tricky part for Realtors will be finding a landlord or property owner who is both okay with the industry and okay working with a cash-only client, which some are still hesitant to do.
The Result: Marijuana companies may choose to just buy their own property outright to avoid working with landlords and property owners.
Hurdle #2: Realtors will have to navigate state and local restrictions with how close growing facilities or dispensaries can be to schools, daycares, and residential areas. This can make finding an urban location a lot more difficult. Not to mention, the law also allows local governments to decide if they even want to allow marijuana businesses to locate within their boundaries. Here are how some Illinois communities have voted:
Chicago's modified ordinance prohibits recreational weed sales north of the river and west from the lake to State Street.

Northern Boundary: moved north to Division Street from Oak Street.

Southern Boundary: recently approved to move north from Ida B. Wells Drive to Van Buren Street.

A dozen towns that have approved recreation sales, including Lombard and Joliet.

A half-dozen communities including Wheaton and Lake Zurich, have voted to ban marijuana retailers.

Mundelein voted 4-2 to permit a medical marijuana dispensary to sell to recreation users.
The result: Realtor Deena Zimmerman, VP of SVN Chicago Commercial, has worked with commercial retail clients since medical marijuana was legalized. She predicts that there may be a heightened interest in secondary and tertiary markets where there is more available open space. We have already seen examples of this in the medical marijuana industry. A number of cultivation centers have been located downstate in rural areas such as Delavan south of Peoria, the small community of Barry in Pike Country and Kankakee.
Residential Growing
Compared to other states, Illinois' residential market may not see as much of an impact from the legalization of marijuana. That is simply because lawmakers put tight restrictions in place on who can legally grow at home, leaving little wiggle room for residential expansion.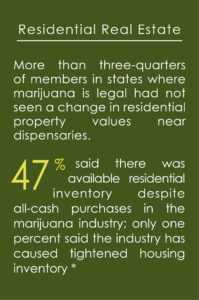 The restrictions state that only registered participants of Illinois' medical marijuana program may grow, and they are limited to 5 plants that are 5 inches or taller. In addition, cultivation must take place in an enclosed, locked space.
The Big Question: The topic under discussion is if sellers have to disclose whether marijuana was grown on the property since certain parts of the growing processes can impact a home's materials. Illinois Realtor General Counsel Betsy Urbance said that an agent's duties should remain largely unchanged.
"Our brokers are not the marijuana police, nor are they the marijuana experts," she said. "Our job is to recognize a defective condition generally. If the home is extra humid [from growing] and they see a substance, they would do what they would any other time there appears to be an excess of moisture situation." Meaning that if there are material defects from growing like water leaks or electrical issues, Realtors will report them just like any other property so there's no need to disclose.
On the other hand, Realtors in Colorado, where home-grow laws allow up to 12 plants per household, have noticed that disclosing the information can be helpful. Some home buyers find that a house with a legal room set aside for growing marijuana is a sought-after benefit rather than a complication.
The Potential Answer: Essentially, whether marijuana was grown in a home doesn't seem necessary to disclose unless you have the right buyer who finds it to be an added benefit.
Leasing & Property Management
Under Illinois' new recreational marijuana law, if you're an adult (21+ yrs old) in a private residence you are allowed to smoke marijuana or consume cannabis concentrate products. So what can landlords do? Treat it like cigarette smoke and prohibit it in the lease. Even though landlords can't tell a tenant they aren't' allowed to use marijuana, they are within their rights to make a general smoke-free policy as long as it's in the lease.

Rolling into the New Year Prepared
So how can Realtors in Illinois prepare for changes brought on by marijuana legalization? By staying informed. It's important for Realtors to become familiar with the new law, and ask questions when they arise. The more Realtors understand, the better equipt they'll be to handle changes that arise and they'll be able to better assist potential clients in the marijuana industry.
---
Resources: "Marijuana and Real Estate" , "Adult Use Cannabis Summary", "Marijuana and Real Estate", "Window to the Law" , "Dispensaries may have to rethink their real estate options" , "Illinois has a marijuana referendum after all" , "No weed sales downtown: Team Lightfoot" , "City Council OKs rules for recreational pot sales despite lingering minority ownership issues"
Photo & Graphics Credit: Illinois REALTORS®