2020 came as a shock, to say the least. The promising year quickly turned as we faced a global pandemic that severely derailed the economy. As we enter a now recovering economy, we turn to see what the upcoming year has in store for real estate. The residential 2021 real estate market will be directed by both low interest rates and a rebounding economy. Similar to 2020, buyers will still be plentiful and homes will continue to sell quickly and for more than asking. However, this year, we're going to see buyers gain more power, mortgage rates will be shifting, and sellers can expect more market competition.
Early this month, we attended the 2021 Market Outlook webinar hosted by the Chicago Association of Realtors. Three industry experts – Danielle Hale, Chief Economist at Realtor.com, Gail Lissner, Managing Director at Integra Realty Resources Chicago, and Brandon Svec, Director of Market Analytics at CoStar Group- shared their insights on the real estate market. Here are some of their key takeaways and what we can expect for the 2021 real estate market.
Consumer confidence in the real estate market took a dip during the COVID-19 pandemic. The economic and labor market backdrop weakened confidence dramatically. Research from Realtor.com shows that as COVID-19 cases decreased during the summer, consumer confidence rose. Then, in fall 2020 we saw confidence decrease as cases skyrocketed. Hales is hopeful confidence in 2021 will improve saying, "As vaccines for the coronavirus become broadly available to the public, and economic growth reflects the resumption of more normal patterns of consumer spending, home sales gain even more in the second half of the year." More sellers are expected to enter the market as confidence is restored.
Lissner and Svec both agreed rental and commercial market performance will be dependent on vaccine distribution. The 2021 real estate market is expected to stabilize once distribution happens. In 2022 however, Lissner also predicts that with the distribution of the vaccine, we'll begin to see office life return in downtown Chicago which will cause a spike in rentals.
How the Chicagoland area compares: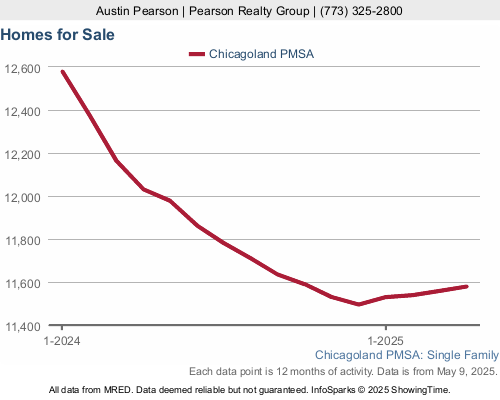 ---
Residential Home Sales Expected to Increase 7%
Home sales reached new highs in 2020. Typically the buyer season begins in spring and carries through the summer, but last year we saw momentum pick up during the fall and continue into the new year. Despite the season delay, homes sold quickly and for more than the average home price. According to Hale, the rush in sales can be attributed to the record low-interest rates, which gave home buyers a sense of urgency to purchase before they rose again. This type of buyer activity is expected to slow in 2021.
"Going into 2021, we expect home sales activity to slow from those frenzied levels which represented underlying housing demand as well as make-up buying for a spring season many buyers missed out on plus a sense of urgency brought on by record low mortgage rates."
The novelty of low rates is expected to wear off during the first half of 2021. As it does, buyers will feel less pressure to purchase quickly. This slow down isn't expected to last long though. In the second half of 2021, interest rates are predicted to increase. The rise could bring back buyer urgency and encourage them to buy before rates change again. Overall, Hale predicts that the 2021 real estate market will show a 7% increase in sales compared to 2020. We should also expect a more typical selling season, with spring momentum carrying through the second half of the year.
How the Chicagoland area compares: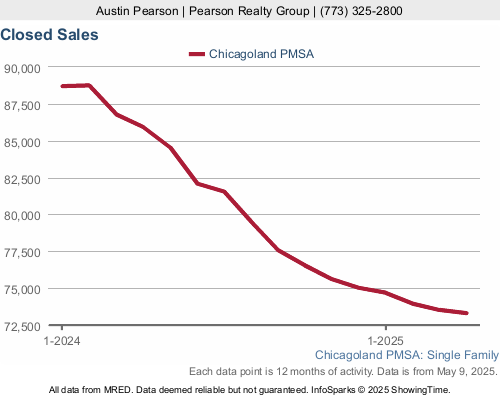 ---
Home Prices will Level & Inventory will Improve
Home prices surged during the fall of 2020, going up more than 10 percent compared to 2019 levels. The increase can be attributed to a combination of low home inventory and high buyer demand brought on by low mortgage rates. The boost will land home prices around 7.6% higher than in 2019 prices.
In December 2020, active listings in Chicago were down 34% year over year and home prices were up 9.3%. These numbers are expected to shift in 2021 as more sellers will be entering the market and mortgage rates will increase. Both factors will help slow price gains and make home affordability top of mind.
Hale predicts 2021 home prices will end 5.7% above 2020 levels. Additionally, prices will reduce steadily through the spring and summer, and then gradually pick up again toward the end of the year.
How the Chicagoland area compares: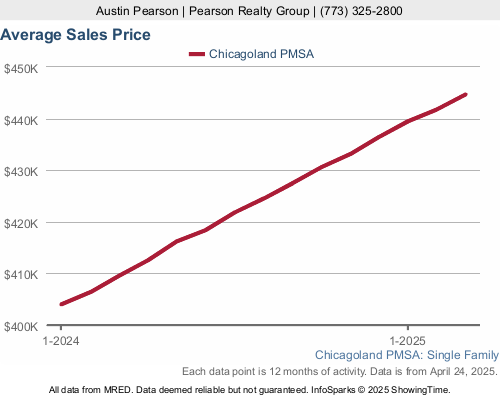 ---
Buying in 2021
Buyers will have more bargaining power in 2021. Inventory is expected to increase as sellers become more confident in the market so demand will level out. Also thanks to still-low mortgage rates, buyers will be able to keep up with home price increases and can afford the home they want. Fast sales will continue, so first time home buyers will face the challenge of making a major decision in a fast-moving market. Buyers can have an edge on the competition by:
Knowing their desired neighborhood
Having a complete list of wants/needs for home characteristics
Lining up financing that includes a pre-approval
Selling in 2021
Sellers will be in a good position in 2021. Home prices will hit new highs, even with the pace of growth slowing. There will still be a surplus of buyers and low mortgage rates keep purchasing power strong. Keep in mind though, as mortgage rates steady and home prices continue to increase, buyers will be faced with an increase in monthly mortgage costs which can be a deterrent. Hale advises "Sellers hoping to see further double-digit price gains will likely be disappointed, but those setting reasonable expectations can expect to see a timely sale and will want to focus on their next move."
---
Ready to sell your home? See what its worth in today's market with a free home valuation quote. or contact one of our top real estate agents for more details.
More to know when buying or selling a home: