Lincoln Yards Development Will Bring Business, Residences, and More

After years of careful planning and advertising, a new development named Lincoln Yards has finally started phase one of construction this year. Building on the site will begin in "quarter two or quarter three" of 2022, with a completion date in 2024, said Martin Wood, vice president of development services for Sterling Bay. Phase one includes some of the planning and construction of the residential and office buildings.
Sterling Bay is a well-credited real estate development company as they have developments across 12 states and have $4.3B in current assets. With projects like 350 North Morgan and 360 North Green in Chicago, they have proven to set high standards for Chicago. Sterling Bay and Lincoln Yards together are attempting to stand the testament of time by breaking barriers with ingenuity and providing for the city's future.
Lincoln Yards will be one of the most significant developments in the Chicagoland area for some time to come, with the goal of residential areas and office buildings totaling approximately 14 million square feet of new construction. These office buildings will bring in around 20,000 jobs to the area which means more foot traffic for all businesses, new & existing. This traffic will take an area along the river that is generally deemed as a waste right now and transform it into a place of working and living. This development will allow Chicago, especially the riverfront areas, to take its community to the next level.
New Construction: What Is Lincoln Yards Bringing To Chicago?
Chicago is always slowly growing and changing; however, with new developments like Lincoln Yards, there will be an immediate change. There will be features that will drastically change both businesses and residents in the surrounding area. Lincoln Yards will increase outside activity, as many plans include parks and sporting courts. Lincoln Yards through phases one and two will cost a total of $6 billion. One of the most anticipated features of Lincoln Yards is the plans to create a public six-acre park in the development as well as a part of Fleet Fields. The park was updated as of January this year for a massive extension of what was initially planned. Lincoln Yards will add 6,000 new residential units to the area in seven sub-areas in both the north and south. Depending on the section, many of these residential and business buildings will have a maximum building height. The tallest residential building will be two residential buildings in Lincoln Yard North, with maximum heights of 575 feet and 595 feet. The planners wanted to balance open spaces and dense urban areas.
Here is a quick glance at some interesting stats on the scale & scope of the Lincoln Yards project:
21 total acres

11.18 acres of parks
3.55 acres of the new riverwalk
6.27 acres of open hardscape land

6,000 new residential units

2,500 units in Lincoln Yards South
3,500 units in Lincoln Yards North
Fleet Fields & New Public Parks
On top of the six-acre park being constructed, two other parks in Lincoln Yards will create Fleet Fields, a new recreational park built with soccer [leagues] in mind. Residents in the area can rent out the Fleet Fields for their own soccer games and much more from picnics, parties, or simply just another sport to play in the multiple soccer-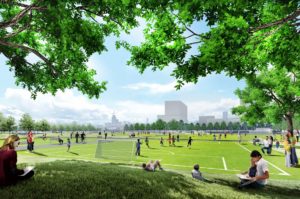 sized fields available. This is a great opportunity for residents to get to know each other, make friends, and build a community. Having the ability to rent out the fields also insures that they will be well maintained and stay beautiful for years to come.
Three soccer fields are open now, containing two street fields and one full-sized U12 soccer field. Sterling Bay plans to connect these fields and parks to all sorts of the public realm to create a thorough connection and more intimate spaces in Lincoln Yards. Having a larger shared space as opposed to gated-off individual spaces allows for more freedom and variety and what the community can do. With winters like Chicago, this is a big factor for many rents & buyers. Check out the Fleet Fields portal to see what games you can drop in on or schedule a pickup game for you and your friends.
606 Trailway and Riverwalk Extensions
The 606 Trail (also known as the Bloomingdale Trail) was once an abandoned railway, but the city transformed it into a greenway that connects multiple neighborhoods. This greenway will be extended through Lincoln Yards, linking this new neighborhood to the greater trail and bolstering the connections between surrounding communities.
The 606 Trail will be one of the three distinct zones of the river walk. The other zones are the Green Edge, which focuses on showcasing the ecological developments in place, and the Social Edge, down by the water. Developers will use the 606 Trail to help plan new parks and public spaces in Lincoln Yards as well as eventually expand down the river path even farther.
Expanded Public Transit Options
With the new construction at Lincoln Yards, comes new options for all commuters. Lincoln Yards will feature multiple forms of transportation for every type of commuter. With the Brown and Red Lines just a short walk east, a Metra stop shortly to the west, a new metra station being constructed, and dozens of CTA bus stops in the area make navigating in and out of Lincoln Yards through public transport easy and painless.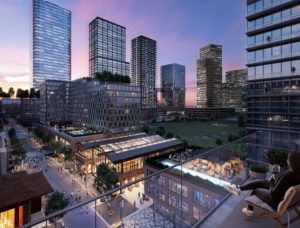 One of this project's leading public transit goals is to thoroughly and effectively connect the northern parts of the river to the southern regions. All of this newly developed transportation along with meticulously designed street plans (see example here) will massively increase foot and car traffic and as a result, help raise the value of the surrounding areas.
A quick glance at some of the various estimated commuting times from the Lincoln Yards area:
20 minutes from O'Hare international airport
15 minutes from Downtown
5-minute walking distance from public transit
Five modes of different transportation
Understanding New Value: What Is Lincoln Yards Bringing To Chicago?
This is an excellent time for any property or business investors to start looking into new spaces and opportunities to expand their business portfolio. Lincoln Yards has the potential to be just as big of a draw to the city as the newly modernized neighborhood, Fulton Market (maybe even bigger). Starting from scratch in a newly built neighborhood gives those with an entrepreneurial drive & spirit a perfect chance to get in on the ground floor for something genuinely new and unique to Chicago. This will raise the investment and business opportunities not only in a new neighborhood but for the entire city of Chicago. If you are thinking about new investments or new areas to live, Lincoln Yards is proving that it should be at the top of your list.
Chicago is already a perfect place for investments with strong economic and job growth, and the new business that Lincoln Yards will bring further elevates the untapped potential in Chicago. Individuals & developments can confidently invest money in this area and expect large growth in return. As mentioned before, with 20,000 new jobs and 6,000 new residential units, means the traffic brought to this area of the city will be monumental. With the plans to also make the area more accessible soon, Chicago and Lincoln Yards will have the best up-and-coming investments in the area.
If you're interested in purchasing, renting, or even investing in a new space at Lincoln Yards, a Pearson Realty Group agent is a no-brainer for you. Our agents are local experts that have their ear to the ground on local happenings and can fill any niche role for your specific needs. Contact a Pearson Realty Group agent today to get started on finding a new space for your business or the new forever home for you and your family.