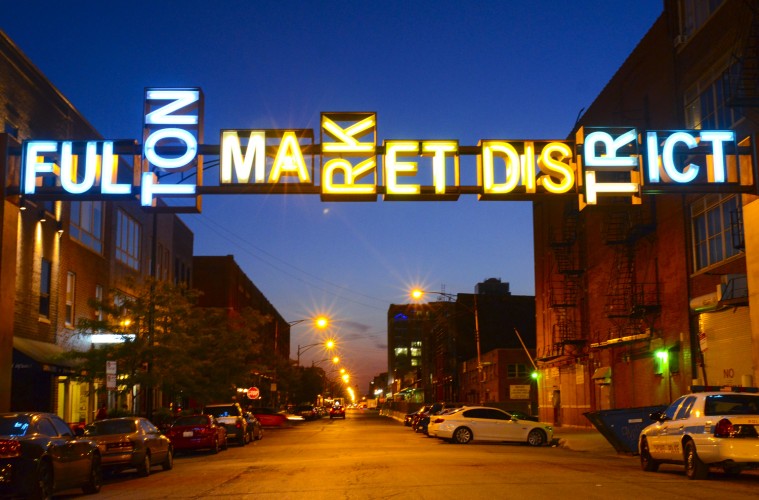 Over the past decade, Fulton Market has grown from a rarely visited area west of the Kennedy Expressway into a flourishing destination for residents, tourists, and even large corporations. This sub-area of West Loop originally paved its way into popularity when The Girl and the Goat opened in 2010. Shortly after, the area became known as "restaurant row". Now, nine years later nobody can stop talking about the mass amount of property developments in Fulton Market.
Nobu Hotel –
854 W Randolph
Nobu Hotel combines modern design with Japanese tradition to create a brilliant juxtaposition. The 115-room building stands 12 stories high and contains a beautiful indoor/outdoor rooftop deck. Also featured are spacious ballroom suites for private gatherings and a top of the line fitness center. The project plans to be open by this upcoming fall.
Fulton East –
215 N Peoria
Construction has finally begun on what used to the vacant lot right across the street from the Hoxton Hotel. Fulton East stands twelve stories high with a 54 space parking lot on top of the main level. Above that, you'll find 85,000 square feet of office space, which is then topped off with a landscaped rooftop. Large balconies for work meetings or social gatherings are located on each floor. There are also customizable units featuring floor to ceiling windows with unobstructed skyline views from each direction. Fulton East is currently pre-leasing and expects to be open by next spring.
Sterling Bay Developments
GR333N –
333 N Green
This 19 story building features an eye-catching kinetic wall that wraps around its parking garage. The wall is made of 100,000 metal pieces that ripple in the wind to create a wavelike optical illusion. Other amenities include a tenant lounge with carry-out food options, a gaming area, and a sky deck overlooking the city's stunning landscape. The Gr333n building is the epitome of function meets art. The 550,000 square foot building is hoping to be open later this year.
The Porch –
360 N Green
The Porch is one of the newest Sterling Bay property developments in Fulton Market. This 18 story building is a modernist's dream with its glass-centric structure and 14-foot floor to ceiling windows. However, its most notable feature is the five-story open-air deck and the pair of tennis courts located on the 5,000 square foot athletic terrace. The Porch plans to be open by June 2021.
800 W Fulton
The buildings that once housed The Mid Nightclub, Issacson & Stein Fish Company, and John R. Morreale Meat are finally being demolished to make way for one of the newest property developments in Fulton Market. The commercial real estate space at 800 W Fulton will be 18 floors and directly next to the Fulton Market District neon sign. Many residents have voiced their concerns for delayed traffic patterns and pedestrian safety for the location of this new property. A Rascall Flatts themed restaurant was supposed to join the site but those plans have been canceled. No other tenants have been confirmed from the developers, but the construction time has been said to last around 16 months.