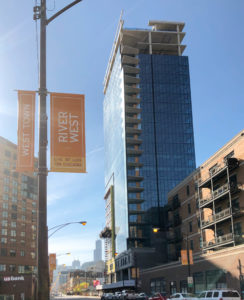 Milwaukee Avenue's mixed-use tower recently reached it's final 23-story height. The apartment building stands 250 ft high, labeling it River West's tallest high-rise. The fast paced development broke ground less than 12 months ago. Placing it ahead of the projected time-line.
In early 2018, developers received a stamp of approval to begin demolition of the low-rise structure located at 734 N. Milwaukee Ave. The tear-down made way for this brick based high-rise to take its place on the southwest corner of Milwaukee and Carpenter. Developer Tandem Partners and Rambaud Holdings purchased the adjoining building at 1040 W. Huron St. for $11.4 million in April 2018.
The transit-oriented development was designed by Chicago-based architect Antunovich Associates. It will contain 196 apartment units, 97 parking spots and 2,300 sq. ft. of retail space. Totaling 28,315 sq. ft., this River West high-rise will also feature lush rooftop gardens on the 5th and 11th floor terraces. In addition to retail space, the development will be incorporating the existing 3-story office building located directly south of the tower.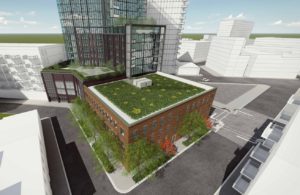 As River West's tallest high-rise, it will be one of the first large-scale projects to fall under the City of Chicago's Affordable Requirements Ordinance (ARO) pilot program. The ARO consists of 3 areas: Near North-Near West, Milwaukee Corridor and Pilsen-Little Village. Among other changes, the revised program raised the affordable unit requirement from 10% to 20%. This means the building will reserve 45 apartment units for tenants who earn up to 60% of the area's Median Income.
Although early rendering suggested the new tower will be named The Mill, that is not the case. Developers plan to release the actual title in the upcoming weeks. With vertical construction completed ahead of schedule, River West's tallest high-rise plans to open their doors later this year.