Chicago's West Loop continues to be the perfect building ground for tech firms, popular restaurants, and trendy boutique stores. So it's no surprise that more and more renters are scoping out their new home in this thriving neighborhood. West Loop's popularity is up 7% this year and has welcomed a number of luxury apartment projects within the past year. The area will soon include an additional 586 rental residences as the block-sized development, Porte, nears completion.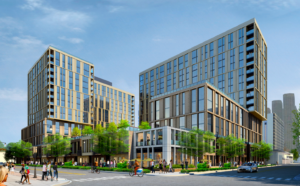 Porte is located at 855 W Madison and is complete with more units than some other nearby projects like The Parker or The Landmark. The apartments at the Porte development will range from 546 to 1,591 square feet and rent payments begin at $2,170 per month for studio apartments.
Porte also features 13 street-level townhomes located at the site's perimeter. Possibly the most intriguing part of the project, these bi-level homes rent for $7,240 per month and are accompanied by their own private entrances that smartly conceal the building's parking garage and provide a more pleasant streetscape. The 17-story towers are connected by a two-story podium which is wrapped in retail spaces and townhomes. The Porte is also topped with a landscaped pool deck featuring lounge seating, fire pits, and grilling stations.
No new luxury high-rise development is complete without a variety of amenities. Tenants will find high-end perks throughout their units and across the building.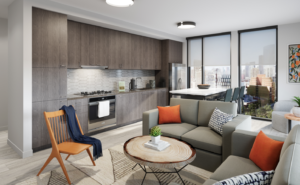 Suite Amenities Include:
Keyless Entry
Nest Thermostat
Gas Ranges Stainless Steel Appliances
Closet Organizer Systems
In-Unit Washer and Dryer
USB Outlets in Kitchens and Bathrooms
Roller Shades, Panelized Appliances (in select units)
Balcony/Terrace (in select units)
Shared Perks Include: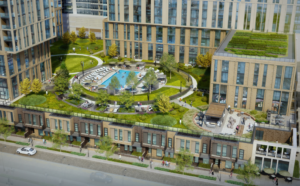 Fitness Center
Game Room
Lounge
Demonstration Kitchen
Co-working Space
Dog Run
Pool Deck
The development also boasts sustainable features like rooftop crops and beehives and is targeting LEED gold certification.
As construction nears the end, the team behind the project talks about the decision to rebrand the building's name from "The Venn" to "Porte." The new name translates to "door" in French. Porte's name is reflected in the location and the design with the goal of being seen as the door to the West Loop.
In addition, changes have been made to the exterior materials being used. GREC Architects created an updated design for the two towers which uses more metal panels and has less glass and three-dimensional depth. The purpose of the Porte's new design is to create a contemporary look so that sets it apart from the base level, which will follow the original design plan.
West Loop's Porte currently accepting lease applications and is offering 1 month free if tenants sign before April 30th.
Explore new West Loop listings →
Looking to buy or sell? Contact a Pearson Realty Group Agent for more information →