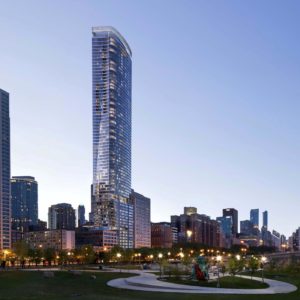 Construction is underway for the highly anticipated South Loop skyscraper, 1000M. As building continues, the team behind the high-profile project has given us a look at the interior renderings for the sleek glassy tower on Michigan Avenue.
In June, the tower's development partners Time Equities, JK Equities, and Oak Capitals announced that Kara Mann had been selected to lead the interior design for the tower. New renderings highlighting the interior finishes for the residence and offer a first impression of Mann's vision for the project. The 74-story skyscraper has been marketing its 323 units for the last several months giving only morsels of new information and images of the tower. And while we have become quite familiar with Helmut Jahn's evolving design for the curving 832-foot building, the interiors have been under wraps until now.
Once completed in 2021, the JAHN-designed project will join a number of high-rises set to transform the skyline of Chicago's South Loop. These projects include One Grant Park—a 76-story rental project under construction at Roosevelt and Indiana—and the 56-story Essex on the Park apartment tower headed to 808 S. Michigan Avenue.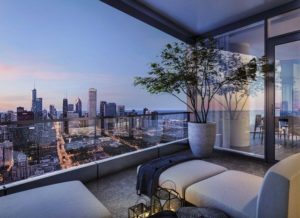 Construction on 1000M is expected to take 30 to 36 months, Jordan Karlik of JK Equities told Curbed Chicago at October's ceremonial groundbreaking. Assuming crews adhere to that timeline, the South Loop high-rise would open in mid- to late-2022. If completed today, it would stand as Chicago's 15th tallest building. The high-rise will slip to 17th spot after the Vista Tower and One Chicago projects are completed.
The interior style is not your loud and typical "luxury" aesthetic that was ubiquitous during the previous development boom. Instead, the interior rendering for 1000M shows a more refined and sophisticated vibe with its highly stylized common areas and amenities like a large library lounge and music conservatory.
Some of 1000M's spectacular amenities include:
Rooftop deck
No residential tower in Chicago is complete without some sort of rooftop feature. And for 1000M, one such deck will be located way up at the building's 72nd floor, offering sweeping views of the city and Lake Michigan. At 800-feet-high, the common rooftop terrace at 1000M will be one of the highest in Chicago.
Club 1000
The upscale residential skyscraper will also feature its own club space with a full-service bar. Located on the 72nd floor, the club and lounge feature a prominent living wall and earthy-colored furniture to match. Directly across from the greenery are tall glass windows filling the entire wall, looking out on the rooftop deck and Chicago skyline.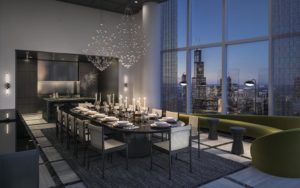 Music conservatory and formal dining room
Nearly every new high-end rental tower has its own flavor and its own take on amenities. South Loop's 1000M is no exception. Instead of generic event spaces with enormous flat-screen TVs, the tower will feature more sophisticated spaces such as a music conservatory, library, and formal dining room. Views of the Chicago skyline and Lake Michigan also make prominent appearances in these spaces.
Landscaped Deck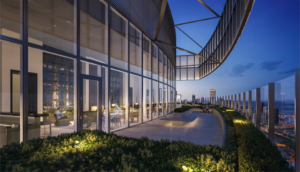 In addition to its rooftop deck located 800 feet above ground level, the tower will also boast a landscaped amenity deck on the 11th floor. Similar to competing towers, this sprawling roof deck space will feature fire pits and outdoor grills. But instead of standalone grills, the means of cooking will also be integrated with sinks and outdoor dining tables.
Pool Deck
Located on the same level as the landscaped deck space, the outdoor pool area will feature a full-sized swimming pool along with seating. The corners of the pool will be flanked on the corners by cabanas while a landscaped hedge wall will offer some privacy to those lounging by the pool.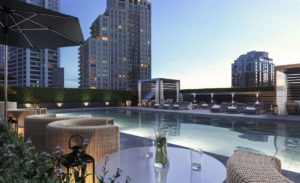 Spa
Again, a spa isn't a particularly unique or unusual feature at upscale residential towers, but the difference is that 1000M's is much more design-focused than some competing offerings.
Library lounge
It's common for residential towers to feature some sort of business amenities like conference rooms or private workspaces. But the library lounge at 1000M certainly has more of a contemporary take that will likely see folks gathering to socialize or get some work done. The lounge also includes a bookshelf area with seating to complete the library feel.
Fitness center
The ubiquitous fitness center—every apartment and condo tower has one. The design of 1000M's is interesting in that it features a large mirror wall in the center separating the cardio machines and weight benches, offering privacy in a relatively confined space.
Porte cochere and lobby
And finally, we end on the ground level. While the porte cochere is generally not the most exciting aspect of a tower's design, here we can really see how Helmut Jahn and Kara Mann's visions not only blend together but how they complement one another.
If the final product matches the vision Helmut Jahn and Kara Mann have for the tower, 1000M is poised to become a contemporary Chicago classic. It's safe to say that the tower features Kara Mann's best work in Chicago as it embodies current design trends in the best way. And while Helmut Jahn's original 1,030-foot-tall design was nixed by the City of Chicago Landmarks Commission, the evolving style and aesthetic does not disappoint.