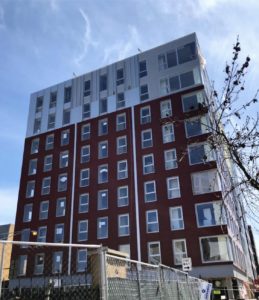 Chicago's Old Town neighborhood will soon be home to a new 9 story residential building located at 343 W. Shiller St. The 105 unit apartment building focuses on energy efficiency per the design of Brininstool + Lynch.
As part of their green initiative, the 105,000 sqft project will include fiber cement rainscreen, a system that effectively deals with moisture management and temperature regulation. It will also be the first building in Chicago to use Intus high-performance windows. These windows are known for their ability to convert energy, increase thermal performance, and reduce noise. Not to mention, Intus plants a tree for every window sold.
The multifamily project includes ground-floor retail and boasts plenty of outdoor spaces like a green roof and ninth-floor terrace complete with grills and firepits. They also go above and beyond with their interior dog run, which will have a raised floor to make room for a drainage system to ensure longevity. Old Town's new residential building also includes a fitness room, luxury lounge, and heated indoor parking.
The Chicago-based Focus has been selected by Miami Beach-based Lakshmi Capital Management to act as the projects general contractor. Lakshmi also brought on Cullen Construction Management to act as the owner's representative. The Focus team faced logistical challenges as they navigated a small site and dense neighborhood. A typical ground crane would not fit on-site, so the Focus construction team revised the typical erection sequence in order to use a smaller, hydraulic crane.
The new Old Town residential building was projected to be completed during Spring 2020. The current date for completion is unknown.