Whether you have a large yard with room to play or a patio that just fits a grill, there's a lot you can do to create an outdoor space for Father's Day. Ensuring the area is stocked up and has some of Dad's favorite activities can make a huge difference in his day. If you're looking for some inspiration, here are a couple of tips to help you liven up the outdoor space and make Dad's day.
Build Out the Grill Station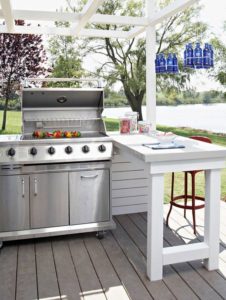 No matter who's doing the grilling, establishing a designated grilling/cooking zone will create organization and safe boundaries for the little ones. Make space for tools and towels by adding shelving or hooks to the wall. Or pick up an easy roll away cart that can be tucked back when you don't need it.
Don't Forget the Refreshments
Back a cooler full of Dad's favorite refreshments and save the family trips inside! If you have the space for a standing cooler, they make fantastic gifts without breaking the budget. Or craft with the kids and grab a small portable cooler from the grocery store that they can paint and decorate to fit Dad's style.
Create a Father's Day Playlist
Music plays a huge role in setting the tone of any celebration. Create a playlist that includes some of Dad's top songs so he can rock out on his day. If you're tech-savvy, install built-in speakers around the patio. Or rely on a sizeable Bluetooth speaker to send music outside. Just make sure you're not keeping your neighbors awake at night!
Make Furniture Versatile
Make your furniture work for you! By using multipurpose pieces you will be saving space and when your grill out of 5 turns into a gathering of the Dads, you won't be caught without extra chairs or tables. Ideas include comfortable seating options that can double as ottomans or the occasional table. Also, make sure your furniture pieces are light enough to rearrange so that your space is adaptable
Include Games for All
No father's day grill out is complete without some backyard games. Have a Dad that loves to golf? Gift him a putting green that takes up minimal space and can be used for a friendly competition out of it. Have a Dad that's champion of bags? Make him a homemade set that can be enjoyed every summer. Or if you're pressed for space, try some cozier activities like creating a movie space for when it gets dark. Or craft your own board games to play. Dad and kids can do a craft and make checkers or tic-tac-toe made by painting rocks and using them as game pieces. Discover other DIY games →
Add Shade for Comfort
Most decks and patios are uncovered, which can be a pain during hot, sunny summer days. It can create for a warm, uncomfortable Father's Day that quickly turns into an indoor celebration with AC. So keep things shady by adding an awning or umbrella near your seating area. The whole family can retreat in the shade while enjoying the beautiful space you've created.
Add Color & Practicality
Create a fun playful yard with colors, textures, and durable materials to help liven up your outdoor space for Father's Day. Big comfy pillows that the kid's lounge on, cushions that are pet-friendly, or side tables that Dad can rest his drink on without worrying about leaving a ring. Tableware is also an easy way to add in patterns and we suggest selecting a style that is unbreakable! Between little ones running around and family members dodging bugs, accidents are prone to happen. Instead of stressing over things breaking, use some unbreakable pieces that allow you to dine without worry.
Add Outdoor Lighting
Don't let the sunset stop the Father's Day fun! Add some ambiance lighting to create a welcoming atmosphere. It can be as easy as solar-powered light in the ground or wrap lightbulbs and wiring around the trees, shrubs, or trellis. Or if you're looking for a more "back to nature" feel and its not windy day, pull out the candles to brighten your outdoor space for Father's Day! It can make the space cozy and will keep the bugs away.
Create a Cozy Fire Pit
If the Dad figure in your life has more a sweet tooth, add a fire pit for roasting marshmallows! If you're handy, you can build one yourself or purchase one if you're pressed for time. It doesn't have to be elaborate or cost you a pretty penny, just work with what you have. The important thing is that it's creating a space where the family can lounge and shoot the breeze before or after the meal.
---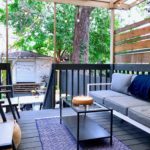 Looking for an outdoor space of your own?
---