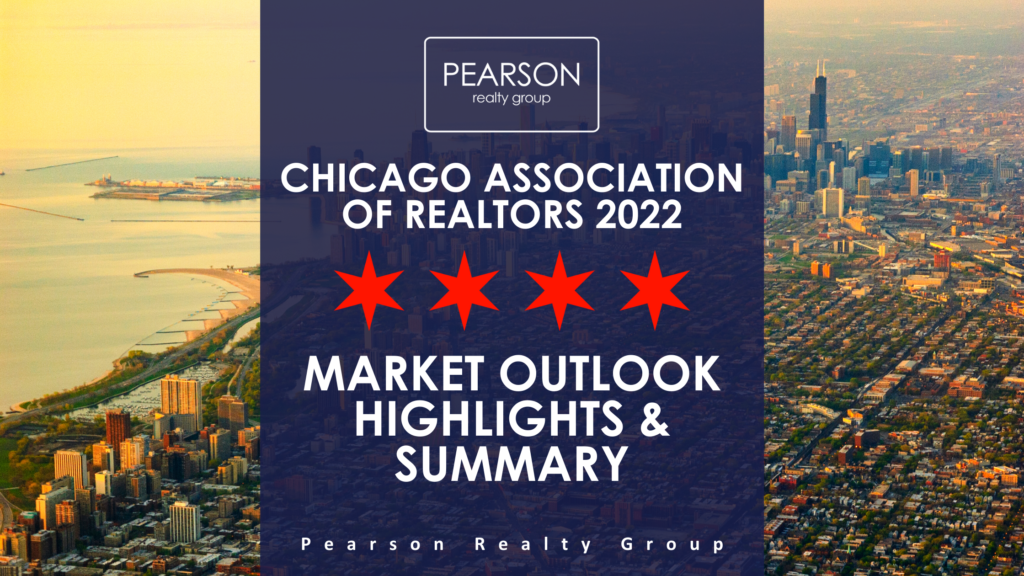 Chicago Association of Realtors Market Outlook 2022: Highlights & Summary
The Chicago Association of Realtors has come together for another "State of the Union" for the Chicago real estate market. A handful of industry experts from all over Chicago gave a fantastic presentation reviewing 2021 highlighting some things to look forward to in 2022. To see the full video presentation, simply scroll down to the bottom of this article or visit the CAR 2022 Market Outlook page here.
Property Is A Safer Investment Than Cryptocurrency
One of the biggest exploding trends in investing over the past decade has been cryptocurrency – a secure digital currency that is essentially impossible to fake or counterfeit. The most popular coins, Bitcoin and Ethereum have particular popularity with investors, many flocking to them for the anonymity and world of NFTs (non-fungible tokens).
The popularity of crypto comes from many factors but using them as an alternative investment to traditional methods of savings/money investment is growing rapidly. Many find that these coins hold their value better in the long term than a 401k or other similar investing methods. While this is debatable, it has caused billions to be put into countless coins across the globe.
Dr. Lawrence Yun's orientation touched on how these efforts in investing are much better spent on a home purchase. Houses are tangible assets that you can actually use for a real, physical purpose. Whereas cryptocurrency is very much in the beginning stages with more "theoretical" uses, mostly in the future. You can insure a house if you lose everything, this is impossible to do so for cryptocurrency. Owning a home is simply a safer, smarter, more efficient investment for your hard-earned money.
Supply & Demand Needs Time To Balance
Since the Spring of 2021, the demand for housing has skyrocketed after the first year of covid. Naturally, supply is affected by this but we have yet to see a big bounceback in inventory not just in Chicagoland but nationwide. Most experts do not see high demand trends going away anytime soon so this will be the biggest challenge for any buyers on the market this year. Limited inventory, high demand, and rising interest rates create a dynamic where homes on the market sell very quickly where they would otherwise take months to find the right buyer.
Overall, this isn't a problem that necessarily harms the industry but absolutely changes purchasing behaviors and confidence in potential buyers/sellers in the market. Only time will tell how 2022's inventory dilemma will play out but many experts including presenters at the CAR 2022 Market Outlook, agree that supply & demand will soon return to a sense of normalcy.
Commercial Spaces Returning
Office buildings were some of the most affected businesses during the pandemic and continue to feel the residual effects of the global shutdown. Chicago particularly being one of the few states left with mask mandates, still feels the large absences to this day. The CAR 2022 Market Outlook highlighted this as being a significant problem for Chicago's downtown area.
On the micro-scale, it's not the biggest worry as work can be done remotely in many cases. Yet on the macro scale, this has rippled across local economies. The loop, for example, has many businesses in and surrounding the area that depends on office workers for the majority of their business. Without foot traffic, lunch orders, and happy hours these businesses suffer. They suffer because commercial spaces are not being filled at the same rate as pre-covid.
The good news is that this is changing as the tides change. Many businesses, with or without masks, are returning to the office for most workers, and as spring comes many are hopeful to see mandates & restrictions dropped altogether. As things start to shift it is heavily expected for commercial office spaces to return to a strong rate of occupancy, strengthening a domino effect in economic recovery.
Mortgage Rates Hikes Expected In 2022
One major downside compared to this time last year, is the change in mortgage interest rates for borrowers. We have seen a significant and consistent increase through the past 12 months and unfortunately, this affects the market. While this may not keep a large number of buyers from completing purchases, it changes the mood of the industry. Potential buyers no longer have an incentive they had a year ago that made a home purchase much more affordable. This is by far the biggest challenge for the Chicago real estate market in 2022 and we recommend keeping your eyes on the most recent trends in the coming months.
The Industry Will See More Recovery Than 2021
Due to Covid the industry as a whole still has some bumps in the road ahead. Even so, the forecast for 2022 shows a sense of normalcy returning with strong trends in the market recovering. This includes everything from interest rates, inventory issues, and everything in between. Commercial spaces returning, mandates dropping, confidence coming back, and high demand for housing lends themselves to strong signs of the Chicago real estate market having a strong year in 2022
CAR 2022 Market Outlook Presentation Replay