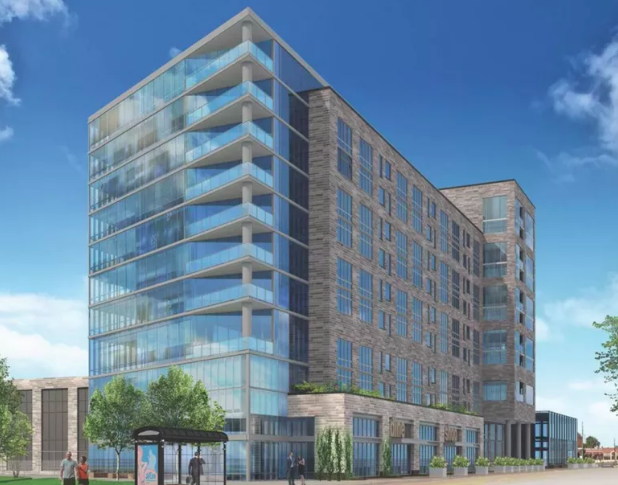 The development boom is in full swing this year, adding yet another rental building in place of Old Town's Father and Son Plaza strip mall. The redevelopment plans for 633 W North Avenue have been in the works since 2016 and is finally moving forward. White Oak Realty Partners and FitzGerald Associates Architects landed a construction permit this past Friday and a demolition permit on Monday in order to move along with this project. The strip mall will now become an 11-story apartment complex.
Plans for construction on the Father and Son Plaza have been in discussions for more than a year with many previous plans being rejected. The community earlier rejected 365-unit and 293-unit plans because of concerns regarding height, density, and traffic. Now, an updated plan with a reduced number of 261 units has officially been approved. The exterior will have a brick and glass structure and will include a residential amenity level with an outdoor pool, 183 garage parking spaces, and two retail bays on the ground floor. The project will provide seven affordable units on site as well as pay $2.37 million into the city's Affordable Housing Opportunity Fund.
According to Crain's Chicago, President of White Oak Realty Partners, Richard Blum, says "we're planning to create a great pedestrian experience and help bridge that poorly developed stretch between the Clybourn Corridor and Old Town with a high-quality development".
Redevelopment on the Father and Son Plaza isn't the only project FitzGerald Associates Architects are working on this year. Some other buildings they have worked on include Niche 905, Spoke Apartments, and 727 W Madison, which is currently under construction and will be open later this fall! You can expect that this new rental building will be a luxurious as their other buildings have been.
Continue to check back for more information as the construction moves along!
*Photo via Curbed Chicago