(1) Vista Tower (scheduled completion in April 2020)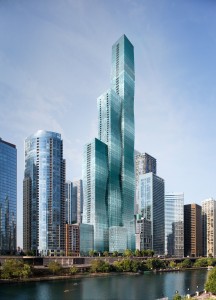 Rivaling the Willis and Trump towers, the Vista seeks to make an immediate impact as the third tallest building in Chicago. Designed by Chicago architect Jeanne Gang, this
elegant building boasts not only 406 luxury condos but a 5-star hotel as well. Towering at 1,444 feet, the $950 million, 93-story luxury project has reported that a third of the condominiums are already under contract to the tune of upwards of $200 million. The true gem of the building however lies on the 47th floor which will remain private to Vista residents. A fitness room, outdoor pool deck, theater, wine tasting room and private dining suite are just a few of the amenities provided exclusively to the residents of the Vista.
Units 1-4 bedrooms – $1 million starting price
Penthouse – $18 million starting price
(2) Addison & Clark (scheduled completion in August 2018)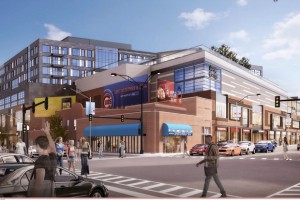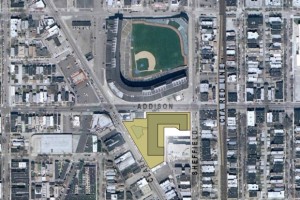 An attempt to revitalize the Lakeview community, the joint venture by M&R Development and Bucksbaum Retail Properties began construction on their $150 million project on today on August 4th. Hoping to stimulate economic growth within the area the project design contains 170,000 square feet of retail space, 148 rental units as well as parking. And though construction will be slow due to required coordination with the Cubs season, with such a lucrative location the project is sure to be a successful venture as well as a future staple of Chicago.
(3) One Bennett Park (scheduled completion in 2019)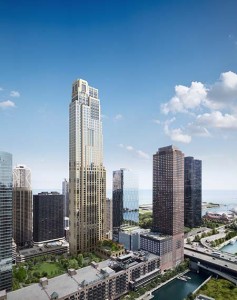 The soon to be 13th tallest tower in Chicago began construction this year with high anticipation combining 400 rental apartments with 100 for-sale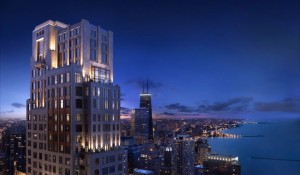 condominiums. Seeking to take a place among a captivating Chicago skyline, the Robert A.M. Stern designed tower is a unique construction project with a 1.7 acre park at the base of the luxury residential tower. This re-imagined version of the outdated Streeterville Park will feature a new playground, picnic grove and dog friendly area. The 843 foot tower pursues the best of suburban and city life, supplying residents with both a spectacular view of the bustling city as well as the serenity of nature.
(4) 465 N Park (scheduled completion in 2018)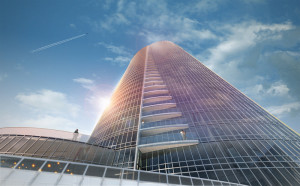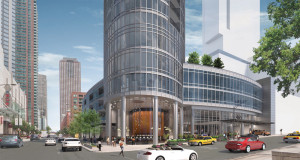 The resurrection of a dead SCB project, the 47-story skyscraper finally started construction this year under the supervision of Jupiter Realty Company and MetLife whom are partnering in this project. Located between the Loews Hotel and the AMC River East 21 movie theater, Brian Kidd's unique curved design seeks to add a much needed breath of fresh air to a classic, yet outdated Chicago skyline. The reported $200 million project not only sports 444 luxury rental units but 490,200 square feet of retail space as well. A 11,178 square foot green roof is planned among the the various amenities including a game room, herb garden, dog wash and sky terrace. Jupiter Realty sweetens the pot further by committing an additional $3.5 million to upgrade nearby Ogden Park adding value to an already heavily sought after location.
(5) 150 N Riverside (scheduled completion in January 2017)
Located west of the Chicago River, 150 N Riverside is the third tallest tower currently under construction in Chicago. The 54-story building is positioned to make a statement as one of the tallest office towers in Chicago with its very unique building design by Goettsch Partners. Reportedly valued at around $900 million, this 742 foot tower possesses a narrowing base allowing it to fit between the railroad tracks and the Chicago River all the while making optimal use of the real estate. Sporting about 27,000 rental square foot per typical floor, the building reached a staggering 80 % pre-leasing by March with the likes of William Blair, Hyatt Hotels and Navigant Consulting. Amenities include a 8,500 square foot fitness center, restaurants, conference facilities, private terraces, dry cleaner and a 1.5 acre park and plaza.
(6) River Point (scheduled completion in early 2017)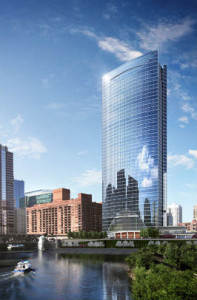 Aiming to set the new standard for ultramodern office spaces, the Pickard Chilton designed tower offers over 1,000,000 square feet of rentable space and features a first class 1.5 acre plaza, public riverwalk, cutting edge fitness center and an impressive 2 story formal restaurant. The 52-story, 730 foot skyscraper has a prime location in Chicago's West Loop at the point where the North and South branches of the Chicago River converge. Located just north of 150 N Riverside, River Point competes to add a unique addition to Chicago's already exceptional riverfront.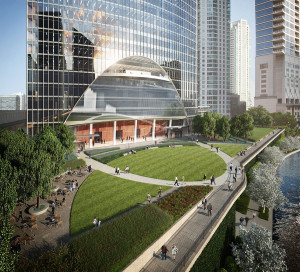 Sources:
https://cdn3.vox-cdn.com/uploads/chorus_asset/file/6263789/vistaexterior1.jpeg
https://cdn3.vox-cdn.com/uploads/chorus_asset/file/6263755/vistaamenity3.jpeg
http://architizer.com/blog/wanda-vista-tower-can-jeanne-gang-avoid-a-sophomore-slump-in-chicago/