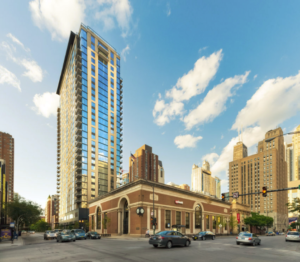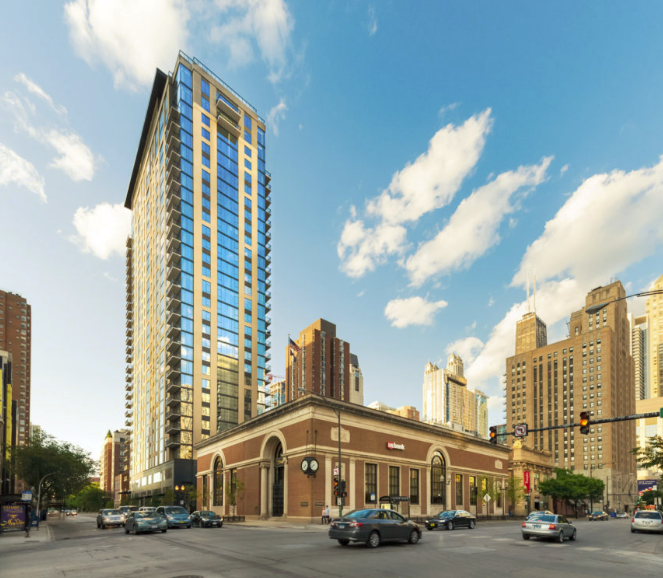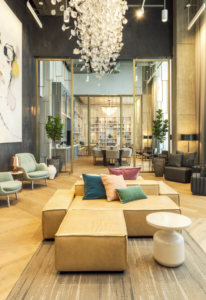 Aurélien is a relatively new luxury building located on the corner of Clark and Chestnut completed summer 2017. Its prime location could easily be considered any one of the surrounding neighborhoods, but Aurélien appropriately associates itself with the Gold Coast neighborhood as the name itself comes from a Latin word meaning gold. The luxury highrise is the product of two developers, Lincoln Property Company and Ryan Companies, and Antunovich Associates, the architect firm. The developers used Karen Herold and her team at Studio K to design the striking interior.
The first floor shows off a gorgeous parlor and library through floor-to-ceiling windows with the mail room, conference center, and bike storage tucked away. Other first floor amenities include a dog run, pet spa, and lockers for receiving packages and dry cleaning. First floor amenities are just a tease for what the rest of the building has to offer though.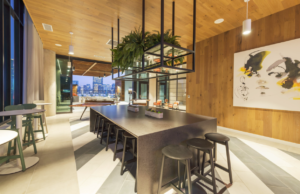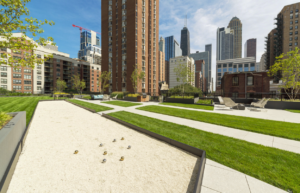 The fourth floor accommodates a reservable indoor and outdoor party space and a concrete and green "garden terrace" complete with fire pits, grilling stations, and bocce ball.
The best amenities, however, were saved for the top floor. This includes an outdoor pool, a 2nd party room, party room, extensive exercise complex, and men's and women's "meditation lounges" with steam showers.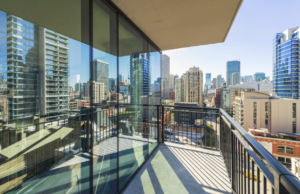 With so much attention paid to the building amenities, expectations are high for the actual apartments. While not as extravagant, the apartments are still a luxury with floor-to-ceiling windows framing spectacular city views, over-sized walk-in closets, quartz counters, and open floor plans. Did we mention the views?
Interested in seeing the Aurélien or other rentals? Call us today! (773) 325-2800
Photos courtesy of Aurelienchicago.com