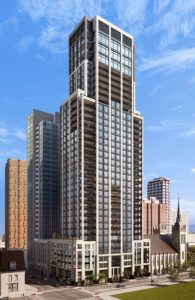 We're breaking records in Chicago real estate! Billionaire Ken Griffin recently purchased the most expensive Chicago home, four top floor units in Near North at the newly completed luxury condominium 9 W. Walton for a whopping $58.75 million.
Once completed, Griffin will build out and decorate the interior of the 25,000 square foot residence for roughly $1,000 per square foot, bringing the total transaction estimate to roughly $80 million.
This sets a new record for most expensive price for a Chicago-area home. The previous record-holder belonged to Groupon co-founder, Eric Lefkofsky for his 15,800 square foot, $19.5 million mansion on Lake Michigan in Glencoe purchased in 2014. Griffen founded Citadel in 1990, a hedge fund which today manages a portfolio over $26 billion.
Pearson Realty Group remains on top of the latest market trends and transactions to provide the most current information to our clients. Interested in viewing a unit at 9 W Walton? Ask one of our expert real estate agents for an interior showing of the property. All but 2 of the total 70 units are under contract in this new construction building.
Here's a peek at the building No. 9 Walton:
(photos courtesy of JDL Development)
Griffin also owns a full floor of the Waldorf Astoria for $13.3 million as well as the top two stories of the Park Tower at 800 N Michigan for $21.9 million.
If you're inspired by this record-breaking transaction and curious about what your home is worth, you can request a free home valuation, and one of our experienced real estate agents will contact you to discuss the best strategy for selling your home.
Not quite ready to take the leap into ownership? We work with some of the premier luxury rental buildings in Chicago, such as 640 N Wells, another project completed by JDL Development. For more of the most expensive Chicago home, contact a real estate broker for more info.