Pearson Realty Group Awarded Chicago 2022 Top Producer Team
Every year the Chicago Association of Realtors (CAR) looks at local market data to determine the top-producing real estate teams in the Chicago market. Considering the Chicago & Cook Country real estate market's size, scope, and number of real estate teams, this is no small accomplishment. That's why we are happy to announce that once again, Pearson Realty Group has been named a Top Producer Team of Chicago!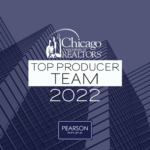 We are so proud of our dedicated agents who are directly responsible for this recognition of success. Our diverse team of agents all across Chicagoland has found consistent success at Pearson Realty Group, even with the natural ebbs and flows of the real estate market. We are extremely proud of all their hard work and dedication in helping us receive this recognition of success once again!
Are you on the hunt for your new dream home? We can provide in-depth, off-market home searches to see homes right away. Or maybe you're looking to sell and want to know your property's current value. Our FREE home valuation tool (FOUND HERE) can help. Fill out the contact form below with any questions or inquiries.