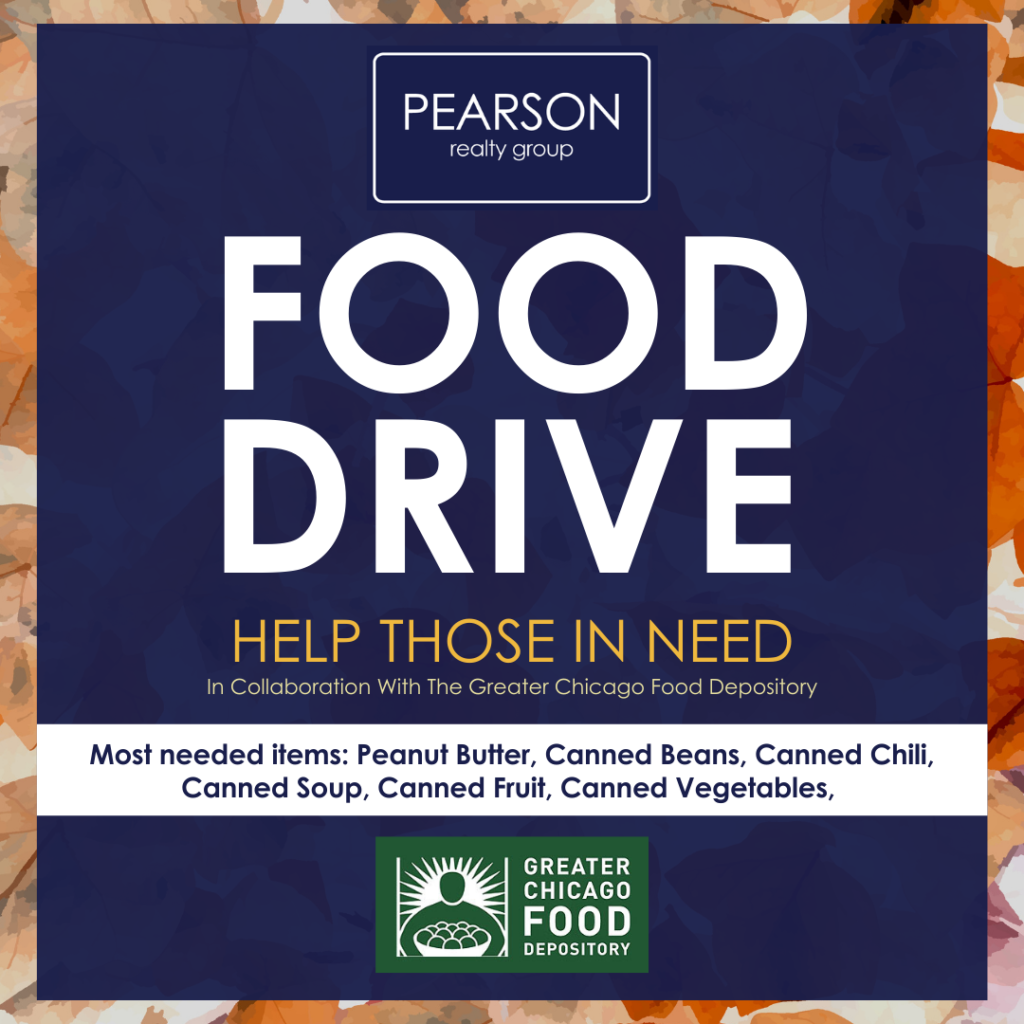 Pearson Annual Food Drive – Please Donate
The time of giving is upon us and taking care of the people in our city is an important philosophy at Pearson Realty Group. To us, this is what it's all about – using our success to help lift others up. According to FeedingAmerica.org as of 2020, there were 566,030 people in Cook County that suffer from 'food insecurity'. With reports of these numbers getting even worse during the covid-19 pandemic, these can be very turbulent times for our fellow Chicagoans.
So this year we are collecting canned food donations for The Greater Chicago Food Depository. As a hub for a network of more than 700 food pantries, the GCFD has been helping the less fortunate in Chicago and Cook County for more than 40 years. Their ability to deliver much-needed resources to our neighbors in need is a very commendable act and we are more than happy to support them.
Here are a few more stats that highlight why efforts like this are important to us:
How You Can Help
For your convenience, we are collecting canned food donations at our office at 1000 N. Milwaukee Ave Suite #200 Chicago, IL 60642. The collection ends on November 17th and we will be dropping off our donations the following morning. If you're unable to make it to our office to drop off your donation – don't fret! You can always drop off any donations directly to their site at 4100 W. Ann Lurie Pl. or find a local pantry near you on The Greater Chicago Food Depository pantry map.
Currently, the most needed items at the food bank are peanut butter, canned beans, canned chili, canned soup, canned fruit, and canned vegetables.
Whatever items you choose, we do ask that you only bring non-perishable items in their original, unbroken & sealed packaging that are within their "use-by/best-by" date. They also do not accept any type of homemade/homecooked items. Otherwise, we will not be able to accept your donation. Every bit makes a huge difference so we want to thank everyone in advance that is able to contribute to this great cause.
Any questions, including what is and is not considered an acceptable donation can be directed to our marketing director Timothy Hellstern at marketing@pearsonrealtygroup.com and he will be happy to help!