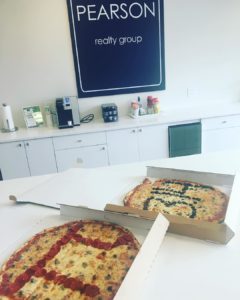 What better way to celebrate Pi Day (3.14) than with delicious (pi)zza (pi)e? Our agents came together at the office today to discuss Chicago real estate over some delicious wood oven baked (pi)zza delivered by Home Team Pizza, a local business in Noble Square. We love that they were just as excited as we were to celebrate by delivering two pi-inspired pizzas to our office. As a family-owned business, we understand the importance of supporting local businesses in our community. We believe that this support is so important to becoming an expert in a local community. and encourage all of our agents to build relationships and support their local community when possible.
Pearson Realty Group started from humble roots transitioning from the Chicago Board of Trade into real estate with Kirby, Parker and Austin, in 2009. Since then, Pearson Realty Group has grown into a successful, full-service office which specializes in luxury rentals and sales, commercial and investment properties, property management, and bank-owned/foreclosure properties.
Our experienced Real Estate Agents are local experts in neighborhoods like Lincoln Park, Lakeview, Westloop, and Humboldt Park. Call us today if you're thinking about renting or selling and, of course, Happy Pi Day!