Moving into a new home is often one of the most memorable milestones in a persons life. Of course, with all that excitement comes a bit of stress. One of the easiest ways to stay excited and make it a stress-free move in day is by planning ahead. Feel more at ease during your transition into your new home using these few simple steps!
Get Your New Home Ready
It will be easy to overlook the small tasks when you are packing up your old belongings. However, to create a stress-free move in, it is vital to remember even the smallest details for setting up your new home. This includes planning out any sort of security setup, purchasing appliances, and transferring over utilities to your new place. Luckily, utility companies make it fairly simple to stop service at your old home and start it at your new one. You can find more details about the different utilities your home requires here. It's also important to remember to take measurements on your new space! It can help simplify the move-in process when you already have an idea of how you'd like your furniture arranged.
Helpful resources: Utilities providers (internet, electricity, gas, etc.), floor plan
Don't forget: check appliance functions and take measurements
---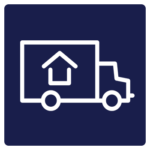 Prepare for Moving Day
The next step for a stress-free move in is by making arrangements for the actual moving day. The first thing you should do is create a collective moving binder, which will keep you organized and on task. Staying organized and keeping track of inventory is easier than ever with the help of online tools or apps. Future you will be thankful that your boxes are accurately labeled so when you inevitably have to search for that missing receipt or the shirt you borrowed from your old roommate, your neatly packed boxes won't be torn apart. It's also strongly advised to hire a moving service which will help take a heap of stress off your shoulders. You can browse through various moving services, like the ones offered by this local company and receive a free quote.
Helpful resources: moving companies, moving binder, rental truck reservation
Don't forget: meal plan to save on groceries, pay outstanding bills, leaving nothing behind with a spotless clean
---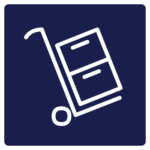 Develop a Packing Guide
When it comes to last minute moving tasks, packing tends to be at the top of the procrastinating list. And as tempting as that is, taking this process step-by-step and starting weeks ahead of time, will significantly decrease stress levels. So instead of cramming weeks of packing into 7 long days, make it something fun to look forward to months in advance. Invite friends over once a week for some help or turn it into a game. An hour of light packing doesn't sound so bad when it's followed by dinner and drinks.
Checking your inventory and calculating how many boxes you'll need is highly recommended at the start of the packing process. There are a variety of tools that can help you save time and money, like a boxing calculator, shipping supply list and box size recommendations. Some sites also offer full refunds if you send back any unused boxes!
Simplifying the process:
Start by separating all of your belongings into two piles: sell or keep. Selling your clothes can take as little as five minutes with apps like Poshmark, Mercari, and Facebook Market. If it takes longer than a few weeks for the items to sell, you might want to consider donating to a local Salvation Army or Goodwill. Not only will you be helping someone who may need it more than you, but you will also be decluttering and creating more space for the necessities.
After you decide which items you will be bringing to the new home, organize them into labeled boxes. It's important to label every single box on its side whether it be numbered, color coordinated, or identified by which room it belongs to. If all of this sounds too complicated and you're not confident in your packing skills,Two Men and A Truck , the same company that offers help with shipping and supplies, would be more than happy to pack all of your belongings for you!
Helpful resources: boxes, shipping tape, packing supplies, Selling apps
Don't forget: block out an hour a day for packing in the months prior to move-out, ask friends for help, be decisive in what you're keeping
---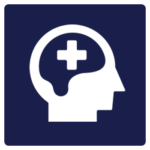 Prioritize Yourself
Above all, the most important part to a stress-free move in, is remembering to maintain a healthy state of mind. Self-care should be monitored as a top priority because the moving experience is mentally and physically exhausting. Keeping tabs on your stress levels has a huge impact on how efficiently you'll work through this transition. In fact, the main reason these basic tips get overlooked so often is because they are fundamental habits that many people forget to follow daily. It can be as simple as:
Following a healthy diet especially keeping sugars, starches, and processed foods to a minimum.

Getting eight hours of sleep every night.

Avoid screen time and instead get at least thirty minutes of physical activity in everyday.
Not only will these small changes benefit your overall mental health but they will allow you to have more energy to get through all of the stressors of moving into a new home.
Helpful resources: relaxing activities, time to yourself
Don't forget: self-care is a priority, keep an eye on your stress levels, and get enough rest