ChiBlockBuilder List of Chicago-Owned Properties For Sale
In collaboration with community leaders and stakeholders on the South and West sides, The City of Chicago has announced a new city-owned vacant land redevelopment program. Dubbed ChiBlockBuilder, this Department of Planning and Development (DPD) program intends to build up communities by listing over 2,000 city-owned lots for sale across the city with a strong focus on the Englewood, Garfield Park, Lawndale, and Austin neighborhoods.
The city is working very closely with DPD to address racial equity issues this has caused across the city. The goal is to address various issues harming minority neighborhoods such as the displacement of black & brown communities, disinvestments, transparency in planning, and much more. If you visit the ChiBlockBuilder page you can read about the DPD application of their racial equity framework through their 3 main tenants – Reflect On Our Past, Reclaim Our Present, & Reimagine Our Future. This provides amazing opportunities for those looking to invest in the communities & neighborhoods that mean the most to them and help shape them for a better tomorrow.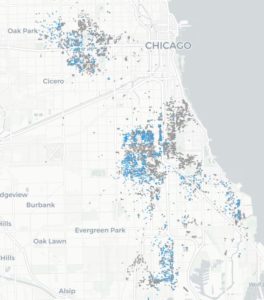 You can visit the ChiBlockBuilder page for a fully interactive map of all the city-owned vacant lots for currency available for sale HERE. You can refine your search by community area, ward, sales status, zoning district, and square footage of the properties for sale. Selecting a property will also display an info card with various information such as the property's market value, any available property photos, and a link to apply to purchase. Available properties will be shown in blue and non-available properties are shown in gray.
To be successfully approved to purchase a City of Chicago-owned vacant lot through the ChiBlockBuilder program it will have to be used for the following project categories: Housing, Side Yards, Commerical Development, and Open Space. These categories were carefully selected to ensure the largest positive net gain for the community and investors alike.
Housing: has 2 categories

Affordable Housing:

For sale h

ousing

that will be affordable to households at

up to

1

4

0% of the area median income (AMI).

Market Rate Housing:

Housing that will be

occupied by the builder or

sold at market rate.

Side Yard:

Fenced yard directly adjacent to a neighbor's home; can be used for any purpose allowable by zoning.

Commercial Development:

A property intended to house a business, such as a store, restaurant, or office. This includes mixed-use buildings, which have both commercial space and housing.

Open Space: Spaces for community and recreation, such as gardens, parks, and plazas.

The Chicago.gov FAQ page states they will review applications by late Spring 2023 and the city council will give approvals for proposed sales in summer 2023. You can also view more detailed information on applying for projects – such as the specific steps for purchasing a property through the website, how multiple buyer applications for the same lot are prioritized, what buyer support is available during the application process, and much more. This will help set expectations, budgets, and timelines for planning out new development projects on the South and West sides. There are even opportunities for current homeowners so be sure to check it out if you're looking to invest in your community.
If you're interested in the overall transparency of the mission goals and what is involved in evaluating the performance of this program, be sure to read the Land Sale Evaluation from the Great Cities Insitute (GCI) at the University of Chicago (UIC). This will dive deeper into the fiscal, crime, and wealth-building metrics of the project to measure its potential success.