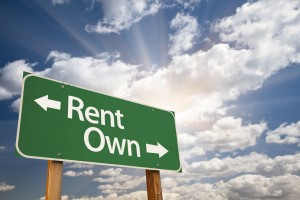 Millennial's are starting the process of finding homes and purchasing them according to a home sales report held by the National Association of Realtors. First time buyers, in May, represented
32% of sales according to the report. These 24-35 year old buyers are purchasing houses because of the benefits buying their own home gives them.
The benefits these first-time buyers experience include:
Customize Your Space: Living in a rental limits making a space your own. You often are not allowed to paint the walls or install your own appliances. Something broken in your rental? You have to go through the lengthy process of having your landlord call in a company to fix it. When you own your own home, the space you have is yours. If you need to knock down a wall, create a larger kitchen, or redo your bathroom, you can do so without losing your hefty security deposit.
Save on Furniture: When you rent, you often move a few times from apartment to apartment. When you move, you often need custom furniture for each apartment that fits the differing space your rental has. When people move a lot, they end up spending money on new furniture for each rental. Being a homeowner allows you to settle in for an extended period of time with your furniture that is in for the long haul with you.
No Landlord: Renters can face an unexpected eviction if the landlord ever decides to sell the unit. Landlords also tend to have more strict rules and can be stubborn when it comes to specific things about your rental. Owning your own home protects you from losing the space you live in, because you are the boss.
Rent Increase: Rent can increase significantly from year to year. You may be paying $1,250 dollars per month and then all of a sudden you are forced to pay $1,350 per month the next year. When you own your own home on a fixed mortgage, the rates never go up!
Equity: Paying rent to a landlord means that you are paying your landlord's mortgage OR adding to their equity.However, when you are a homeowner and have your own mortgage, you build your equity and increase your home's value.
These benefits of owning your own home instead of renting prove that millennial's need to start searching for a home to buy. Stop renting and start buying!