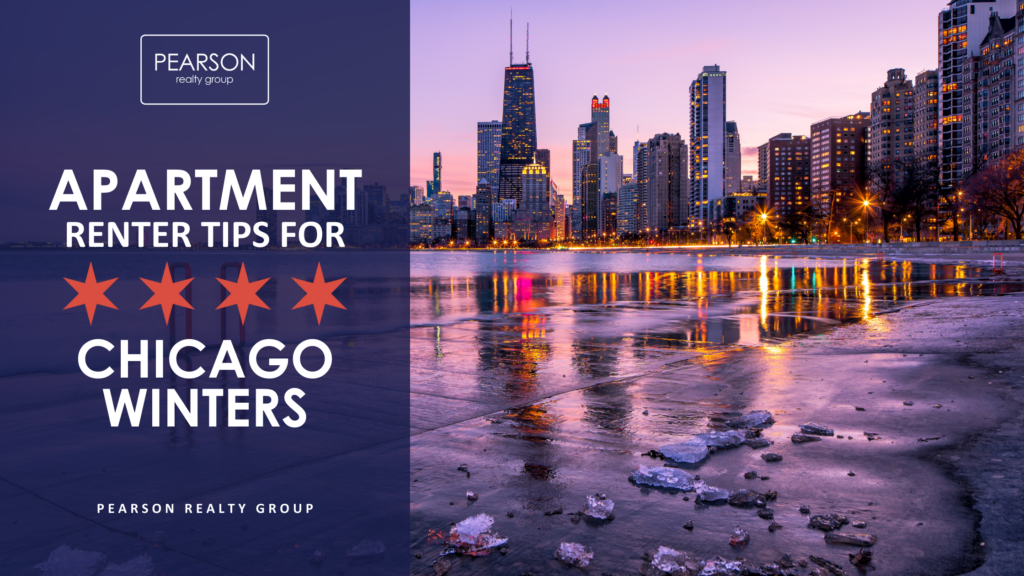 From some basic quality of life for city winters as well as how to save money on utilities during cold spells, these are some essential apartment renter tips on how to thrive in your Chicago Winters rental.
We always recommended checking with your landlord or property manager to ensure any sort of "improvements" or "alterations" you do are performed properly. There may be a professional vendor that your property owner may prefer to any DIY repairs.
Re-caulk or Wrap Windows
One way cold seeps into your apartment during Chicago winters (especially in older buildings) is cracks & gaps in your windows forming over time. An easy fix is to purchase from caulk to re-seal any cold breezes coming through window gaps. Another method that is quite effective, but less visually pleasing/functional is to use a Shrink Film Insulator Kit. This can be particularly useful in some older homes that do not have modern energy-efficient windows. Again, making sure your landlord is okay with you sealing the windows is always a good idea, as they may have a professional(s) to perform the task at no cost to you.
Door Draft Stopper
Threading the same needle as window leaks, gaps in your doors can cause your heating bill to be larger by allowing heat to escape. Older buildings particularly can have the wood in door frames warp over time leading to these for air to find. This is much easier to determine compared to window leaks but has extremely similar solutions – to seal the gap. Draft stoppers are popular fixes and come in many styles whether they be plastic strips that stick to your door or weighted cloth insulators. It will take you longer to order than it will to install – a no-brainer energy-saving method.
Use Carpet or Rugs for Insulation
Many older apartments (especially two and four flats) in the city will primarily have wood flooring, which tends to retain the cold temperatures. Buying runner and area rugs go a long way in providing simple insulation for your apartment's overall temperature. You will find the heater running less and less when you have things like rugs that can retain a bit of 'heat'. This is will also insulate any noise you make (to a degree) so this is a great cheap, simple, no-brainer quality of life improvement for any apartment renter.
Thermostat Scheduler (Nest, Amazon, and more)
The price point, features, and ease of use vary a far amount between all the big name brands so we recommend checking out this article from CNET.com comparing the Best Smart Thermostats of 2021. Nest is by far the most popular but Amazon makes their own more affordable version for those on a budget around the holidays. If you have ComEd you can actually send in a rebate to receive some money back (up to $100) on your Nest or any participating smart thermostat – check out the details here!
Replace Air Filter Monthly
Efficiency is the name of the game when it comes to heating your apartment spaces, finding the sweet spot is the key to getting there. Since your source of heat is coming from airways and vents, it's vital to ensure the unit itself is running as well as it can. Many giving apartment renter tips will overlook this simple regular maintenance task for other, larger issues. While renters hold little to no control over the maintenance of appliances, you can set a day every month that you replace the air filter, this applies during the summer with A.C. as well. Not only are you keeping your unit as efficient as possible, but also keep the air as clean as possible.
Purchase Salt, Shovels, and Gloves
The Boy Scott motto is "always be prepared" which means, don't wait until you need it. BEFORE the first snowfall is the best time to secure a container of salt ice, confirm your shovel is in working order, and invest in a nice pair of gloves. Don't be the person searching all around town right before a storm hits. Doesn't matter if you're brushing off your car, digging it out of a blizzard, or walking to the store you should ready yourself for the challenges of our Midwest Winter Wonderland.
Prepare for Outages & Emergencies
In the same vein as preparing yourself for the outdoor winter extremes, you should be prepared indoors as well. Emergencies during the winter would be anytime you lose power and/or heat so it's vital to have some basic supplies on hand not just for the cold, but year-round as well. At least a few days of canned food, a fire source (lighter, matches), candles, bottled water, and heavy clothing for warmth should be the minimum for a prepared winter household. Of all our apartment renter tips this is the most important as winter temps and emergencies can be fatal in the midwest.
If this made you curious about your own property you rent and how you handle repairs/maintenance with tenants then feel free to reach out to us at PRG Management. Talk to someone about expertly managing your buildings and/or properties and maximizing your profits!