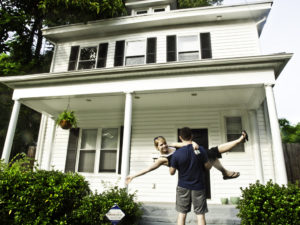 Entering home ownership is a major life decision, and can be especially nerve-racking for a first-time home buyer. Here are some common mistakes to avoid before taking this next step in your life.
1. Not Getting Professional Help
Thinking of buying your first home? You'll want a reputable real estate agent, a good loan officer or broker, and, perhaps, a lawyer. The home buying process can be overwhelming as there are so many things to know and consider before making the purchase. Having a knowledgeable team around you can make this process a lot smoother.
2. Looking at Homes Before Getting Pre-Approved
Home buying does not begin with looking at homes. Often, a first-time home buyer will just pick a price range they believe they can afford and begin looking at houses, but that can lead to disappointment. Yes, it's more fun to go looking at houses then to sit down with a lender to discuss finances, but by getting pre-approved first, you're making a financial decision instead of an emotional one.
3. Being Too Picky
Go ahead, put everything you want in your first home on your wish-list, but keep in mind what is a must-have versus a "would be nice". Try not to be so inflexible that you rent for significantly longer than you would like. First time home buyers often have to compromise due to limited funds. You may have to live on a busy street, accept out-dated decor, or make some repairs. Don't let cosmetic issues hold you back either. Even if you can't afford to change that hideous wallpaper right away, it is a relatively easy fix when you can.
Of course, you can always continue renting until you can afford everything on your wish-list. You'll just have to decide how important home ownership is to you now versus in a few years.
4. Not Saving Enough Money
One of the biggest mistakes a first-time home buyer can make is spending all or most of their savings on a down payment. Home buyers who put down 20% or more towards a down payment don't pay for mortgage insurance which often translates into substantial savings on a monthly mortgage payment, but it's not worth losing your rainy day fun.
There are also many unknown costs -especially for a first-time home buyer, repairs, property taxes, closing costs, and moving costs that you should be prepared for. Having a blanket of savings to fall back on will make purchasing a home less stressful.
5. Getting New Loans Before Closing on a Home
You pre-qualified for a loan. You found your dream home. You signed a contract and closing is in two weeks. Congratulations!
The last thing you should do is celebrate with another big purchase, like a new car. Taking out another big loan during this period can jeopardize your closing because loan officers review credit reports again to ensure the financial situation for a buyer has not changed.
Buyers, often first timers, learn this the hard way.
The Bottom Line…
First-time home buyers can learn from the mistakes of those who have purchased before them. By finding a real estate agent who has the experience to guide you through the process, comparing lenders, getting pre-approved before shopping for a home, and keeping an eye on your finances, you can avoid making a lot of these common mistakes.