Q2 2023 Market Update
The Chicago real estate market has been on a roller coaster ride over the past few years. After a period of rapid growth in 2020 and 2021, the market has cooled off somewhat in 2022. Although growth has slowed, the past 2 quarters have been relatively strong, and the summer months, which are typically the busiest time of year for home sales, offer a good indication of what to expect for the rest of the year. To highlight these positive trends we have compiled a Q2 2023 Market Update to help give a better understanding of the current market.
We also sat down with the CEO of Pearson Realty Group, Austin Pearson who gave some interesting predictions and insight on the Chicago real estate market for the rest of 2023. To get things started we asked about a few predictions for the remainder of the 2023 market. "Are there any emerging areas or property types that are expected to experience significant growth or demand for the rest of 2023?"
Within city limits, Pearson said, "Logan Square is going to appreciate and I think the next tertiary neighborhood that is going to experience growth is going to be Avondale." According to Pearson, trends have indicated popularity spilling over into more affordable neighborhoods. This is evidenced by the continued growth of areas like Pilsen and Edgewater/Uptown which have been on the rise for a few years now. Pearson indicated that access to public transportation and proximity to the central business district being the most important factors in determining a neighborhood's growth. Conversely, Pearson mentioned that although interest in proximity to the central business district is a driving factor in overall business, these areas are not currently as popular or prevalent for residential demand.

Regarding the suburbs, Pearson mentioned that the "bleeding over" effect seen in the neighborhoods near Logan Square will probably happen in the emerging Northshore and western suburb neighborhoods as well. Pearson specifically expressed that Clarendon Hills and Downer's Grove in particular were neighborhoods to monitor growth in.
New Listings
As quarter 2 of 2023 draws to a close, it becomes increasingly evident that the housing market is distancing itself from the COVID-related effects that significantly impacted it in 2020 and 2021. Crucially, the housing inventory remains at near historic lows for this quarter. New listings, which serve as valuable indicators of housing inventory, have decreased by 27.2% for detached residences and 33.9% for attached residences as of July 3rd. This decline in listings suggests a further tightening of the market. Factors contributing to this trend may include increased demand, limited supply, and seasonal patterns.
Under Contract
Similarly, tracking the change in the number of residences under contract can provide valuable insights into market trends and consumer behavior. In comparison to the same period last year, both detached and attached residences are witnessing a decline in homes under contract, with a decrease of 6.9% and 7.7% respectively. Though not as drastic, this data suggests a potential shift in buyer activity and highlights the evolving dynamics of the real estate market.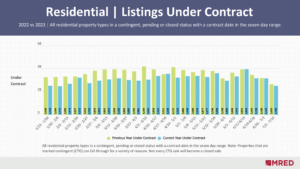 Inventory of Homes for Sale
The inventory of homes for sale is currently experiencing significant historical fluctuations. In comparison to last year, the inventory of detached homes has decreased by 19.1%, while attached homes have seen a larger decline of 34.4%. These figures indicate that 2023 has been characterized by a tightening housing market, leading to historically low availability of homes, particularly in the attached housing segment.
We asked Austin Pearson his thoughts on this unique inventory situation and what that means for buyers & sellers alike. Pearson noted the dynamic factors affecting both the single-family and multi-family home market. Pearson observed that, "the single-family post-COVID has been in very high demand, especially in some of the nice neighborhoods," but also felt that "A lot of millennials are having trouble finding single-family homes with their sometimes low purchasing power." As millennials surpassed boomers to become the largest generational demographic in 2022, their relatively low purchasing power in combination with high-interest rates, high price points, and lack of inventory means renting remains enormously popular, even as rents continue to rise.

On the other hand, Pearson remarked that because of the limitations within the single-family home market, investments in the multi-family home market are consistently a great investment, especially in hedging the effects of inflation.
Market Time
The market time data reveals significant fluctuations and inconsistencies, particularly in the divergent behavior of detached and attached housing. Detached homes have seen a remarkable increase, with properties remaining on the market 65.2% longer in 2023 compared to the previous year. On the other hand, the market time for attached housing has experienced a more modest growth of 11.9%. This can perhaps be attributed to the rapid rise in mortgage rates in the past year.
On the other hand, we are experiencing a consistent decline in inflation rates nationwide which has positive trickle-down effects for the entire industry and beyond. We asked Austin Pearson for some insight into this unique situation. "According to the latest CPI report, inflation fell to 3% in June — the 12th-consecutive month of declines, how do you anticipate this affecting the Chicago home-buying market for the rest of 2023 and beyond?"
According to Pearson, fears about a mild recession continue to reign, despite low unemployment and company earnings remaining strong across the board, prompting the Fed to stand by their decisions. Pearson stated, "We think that rates will continue at around this rate for an extended period of time till we see a sharper decline in inflation and or economic numbers. Until then, we do not see the Fed lowering interest rates." This invariably means inventory will remain low, as home sellers want to keep interest rates low, but will be largely unable to do so upon transitioning from one home to the next. This gridlock has resulted in the renting market dominating much of the Chicagoland real estate landscape, as rent prices are driven up. Although Pearson expected to see more of the same in the immediate short-term, he expressed that he expects to see home inventory open up substantially once interest rates begin to drop.
Median Sales Price
As of July 2023, the median sales price has risen back to similar rates as 2022 at $320,000. Interestingly, despite fluctuations in other housing market data, the median sales prices for detached and attached housing have remained relatively stable. Median home prices for detached properties declined by 7.7%, while attached homes saw a more modest decline of 1.4%. This decline aligns with consumer behavior and indicates a general understanding of the current market constraints by both homebuyers and sellers. Notably, detached and attached homes consistently sold for at least 98.7% of the original asking price, highlighting the awareness of market conditions among buyers and sellers.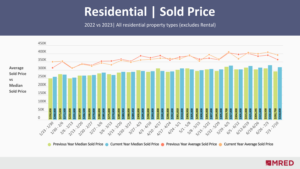 Chicago Q2 2023 Market Update Takeaways
The data from the Chicago real estate market indicates that growth is expected to be slower this year. There are a number of factors contributing to this, including rising interest rates, inflation, and a cooling of buyer demand. Even with these factors, the market is still expected to be healthy, with prices remaining relatively stable.
If you are thinking about buying or selling a home in Chicago this year, it is important to be aware of these trends. Working with a qualified real estate agent who can help you navigate the market and make the best decision for your needs is essential to a successful search. Here at Pearson, we monitor the latest in market data and trends and offer free tools to calculate the price of your home in order to ensure we are best equipped to assist in the home-buying process.